Johnson & Johnson Recalls 33,000 Bottles of Baby Powder Due to Asbestos
Johnson & Johnson, the New Jersey-based consumer healthcare and pharmaceutical company, is back in the news with a voluntary recall of its popular Johnson's Baby Powder due to low-level asbestos contamination. The recall is limited to one lot containing more than 33,000 bottles that were produced and shipped in the U.S. last year.
The company initiated the recall in response to a Food and Drug Administration (FDA) test that revealed levels of chrysotile fibers asbestos contamination in a sample bottle purchased online. In its press release, the FDA stated it stands by the results of its testing, while Johnson & Johnson said in a separate release that their "talc has also been tested and confirmed to be asbestos-free by a range of independent laboratories, universities and global health authorities."
They also noted that the levels found by the FDA were no greater than 0.00002% and couldn't confirm that cross-contamination may have occurred, whether or not the sample came from a product with an intact seal or whether the product purchased was authentic.
J&J also advised that any consumer with a bottle of the baby powder from Lot #22318RB should discontinue using the product and contact the company for a refund. Additionally, the FDA reported that no adverse events or injuries have been reported from exposure to the affected bottles of powder.
Talc, asbestos and Johnson & Johnson
This isn't the first time J&J has made headlines for talc and asbestos. The FDA explains the relationship between talc products and asbestos:
During talc mining, if talc mining sites are not selected carefully and steps are not taken to purify the talc ore sufficiently, the talc may be contaminated with asbestos. Asbestos is a known carcinogen. It is important to note that the FDA has been conducting testing of talc-containing cosmetic products for asbestos. Not all talc contains asbestos and the majority of product samples tested by the FDA did not contain asbestos.
Johnson & Johnson has faced many previous and current allegations about the connection between their talcum powder and ovarian cancer. As of October 2019, the company has paid out billions of dollars in lawsuit settlements over consumer complaints involving their transvaginal pelvic mesh implants, the antipsychotic drug Risperdal and its talcum powder – totaling over 100,000 lawsuits over its products.
When companies and manufacturers develop products, they have a responsibility to their consumers to make a product that's free of hazards and dangerous materials. When they don't, defective products can end up on our shelves, in our refrigerators and in our medicine cabinets. If you or a loved one were injured by a defective or dangerous healthcare product, we can help hold the responsible company accountable. Call our NJ injury attorneys today.
Contact the team at Eichen Crutchlow Zaslow, LLP today by calling 732-384-1331 or filling out the contact form to schedule a free consultation at our offices in Edison, Toms River, or Red Bank.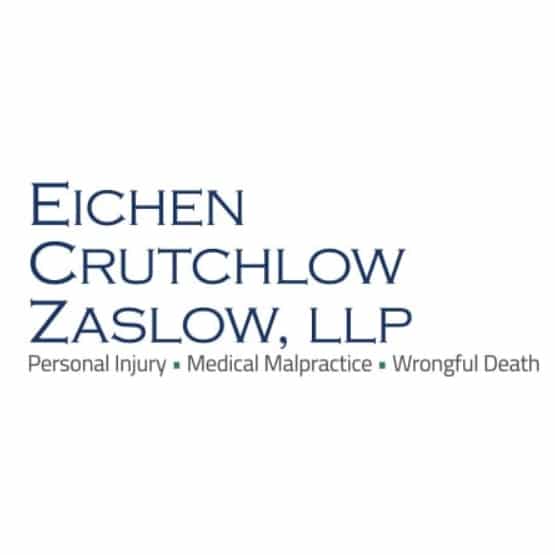 Eichen Crutchlow Zaslow, LLP has purposely remained small in size, because it is important to us that we get to know our clients and their needs. Larger NJ injury firms may churn out case after case, but that's not how we operate. Partners Barry Eichen, William Crutchlow, and Daryl Zaslow have created a firm with the resources to handle complex litigation, and a team that takes your case personally.
Find out more about Eichen Crutchlow Zaslow, LLP