Eichen Crutchlow Zaslow, LLP's COVID-19 Response
The current COVID-19 pandemic has created a lot of confusion and concern, especially here in New Jersey. To better protect our community, our clients, and our team, Eichen Crutchlow Zaslow, LLP is following protocols laid out under Executive Order No. 107, which mandates that residents stay at home until further notice.
Eichen Crutchlow Zaslow, LLP is still fully operational, despite having closed our physical office locations. We are meeting with clients remotely, via video consultation and telephone, and are using encryption services to ensure that any and all private information about clients is secure. Because the courts are closed for in-person submissions, we are submitting our filings electronically whenever possible, or using drop-off boxes located at the courts for documentation that cannot be sent electronically. In these ways, we are continuing to work on behalf of our clients, to ensure that we can proceed with your claims in an effective and efficient way.
Because the courts have postponed all in-person proceedings (barring certain emergencies and ongoing trials), we cannot guarantee that your case will not be delayed. However, we can guarantee that Eichen Crutchlow Zaslow will be prepared and ready to present your case once the courts are running at full capacity again.
These are difficult times, but as Governor Murphy has said, we are one New Jersey family. We will get through this together. Your safety and health are our number one priority. #JerseyStrong
Wishing you all good health,
Barry Eichen
William Crutchlow
Daryl Zaslow
Related Content:
Gov. Murphy Signs Legislation to Improve Nursing Home Care
Beware: FDA's List of "Toxic" Hand Sanitizers Keeps Expanding
COVID-19 and Underlying Conditions
Studies Show COVID-19 Linked to Neurological Injuries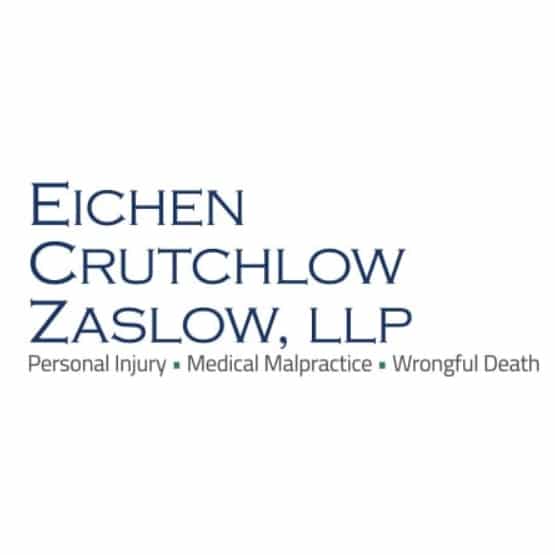 Eichen Crutchlow Zaslow, LLP has purposely remained small in size, because it is important to us that we get to know our clients and their needs. Larger NJ injury firms may churn out case after case, but that's not how we operate. Partners Barry Eichen, William Crutchlow, and Daryl Zaslow have created a firm with the resources to handle complex litigation, and a team that takes your case personally.
Find out more about Eichen Crutchlow Zaslow, LLP