COVID-19 and Underlying Conditions
New Jersey Governor Phil Murphy is providing daily updates on COVID-19 in New Jersey. The updates cover a range of topics including personal requirements and strategies for reducing exposure to the disease, the scope of lockdowns, the definition of essential workers, and when some businesses may be able to reopen.
In April, the Governor announced a six-point plan for reopening the state:
Sustained reductions in reported COVID-19 cases and hospitalizations
More testing
Contact tracing
Safe isolation spots
A "responsible" economic restart
"Ensuring New Jersey's resiliency"
People at increased risk
Even though the state is reopening, we are not out of the woods yet. People are still contracting the virus. The Centers for Disease Control and Prevention states that the most vulnerable NJ residents are:
People 65-years-of age and older
People who have severe health problems including:

Chronic lung disease
Moderate to severe asthma
Serious heart conditions
People whose immune system is compromised due to cancer treatments, bone marrow or organ transplant, immune deficiencies, HIV or AIDS that isn't controlled, smoking, "prolonged use of corticosteroids," and other immune difficulties

Severely obese people which means people whose Body Mass Index (BMI) is 40 or more
Liver disease
Chronic kidney disease and undergoing dialysis
In addition, people who work with or are most likely to come into contact with people who have COVID-19 are also at high risk. This includes our courageous doctors, nurses, and other health workers, and our heroic service workers in delivery services, grocery services, and other essential services.
According to NJ.com, coronavirus is now the most common cause of death in the state. As Governor Murphy stated, "Every single one of these lives is irreplaceable." COVID-19 usually kills someone by infecting their lungs and destroying the persons' respiratory system. Prior to the outbreak of coronavirus, heart disease was the leading cause of death in New Jersey resulting in an average of 52 fatalities per day. Cancer was next with 44 deaths per day on average and accidents the third leading cause at 13 deaths on average. On April 30, 460 people died of coronavirus in NJ. While fatalities have not reached that high of a number since, more than 12,000 people in the Garden State have succumbed to the virus or complications from it.
Coronavirus symptoms
Symptoms generally appear 2-14 days after exposure. Some of the symptoms of COVID-19 are, according to the CDC:
Difficulty breathing or shortness of breath
A cough
At least two of the following:

Chills
Fever
Repeat shaking with chills
Muscle pain
Sore throat
Headache
A "new loss of taste or smell"
Patients are being advised to consult with their physicians or the ER by phone so that the medical staff can review the symptoms, whether testing is required, and if and when the person may need to seek in-person medical care.
At Eichen Crutchlow Zaslow, LLP, we want to help. We understand how scary COVID-19 is for everyone in New Jersey. We are keeping current with state and federal guidelines. We are still representing clients – old and new. We are reviewing the legal rights of anyone who contracts COVID-19. To discuss any personal injury case, including nursing home deaths, call us today at 732-777-0100 or leave us a message through our contact form. We have offices in Edison, Red Bank, and Toms River.
Related Content:
Studies Show COVID-19 Linked to Neurological Injuries
Beware: FDA's List of "Toxic" Hand Sanitizers Keeps Expanding
Gov. Murphy Signs Legislation to Improve Nursing Home Care
Eichen Crutchlow Zaslow, LLP's COVID-19 Response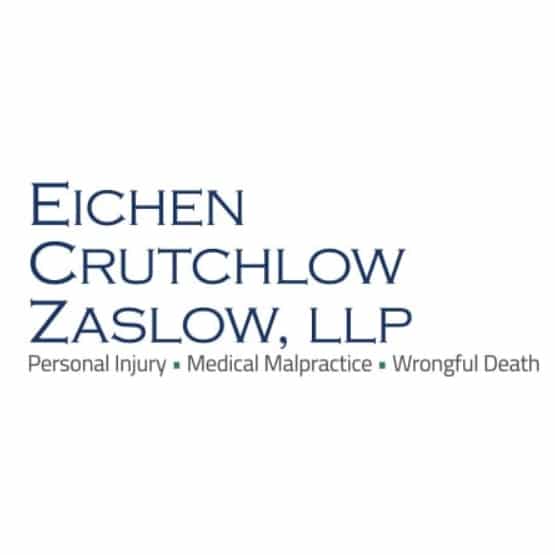 Eichen Crutchlow Zaslow, LLP has purposely remained small in size, because it is important to us that we get to know our clients and their needs. Larger NJ injury firms may churn out case after case, but that's not how we operate. Partners Barry Eichen, William Crutchlow, and Daryl Zaslow have created a firm with the resources to handle complex litigation, and a team that takes your case personally.
Find out more about Eichen Crutchlow Zaslow, LLP