Studies Show COVID-19 Linked to Neurological Injuries
A new study published in the online journal Neurology shows that COVID-19, the novel coronavirus, is linked to a number of neurological disorders, affecting about one in every seven patients. Injuries can range from temporary confusion in some individuals to stroke and seizure in others. These findings are of note because the coronavirus does not directly invade the brain or nerves.
Entitled, "A Prospective Study of Neurologic Disorders in Hospitalized COVID-19 Patients in New York City," the study focused on the neurological implications of the virus SARS-CoV-2, or the coronavirus. Their research showed no cases of brain or nerve inflammation in patients, which indicates the virus does not invade these areas of the body.
Although this data should feel reassuring, this study may show that the reason these neurological and brain injuries occur is due to dangerously low oxygen levels in the body from COVID-19.
Said lead study researcher Dr. Jennifer Frontera, Department of Neurology at NYU Langone Health, "The results of our study showed no signs that the coronavirus directly attacks the nervous system. The neurological complications seen in COVID-19 are predominately the secondary effects of being severely ill and suffering from low oxygen levels in the body for prolonged periods of time."
Low oxygen levels, also called hypoxia or hypoxemia, can negatively affect the brain, leading to confusion, coma, seizure or permanent brain damage. The authors of the study advise doctors treating COVID-19 patients monitor their oxygen levels to reduce the risk of neurological issues.
About the study
Researchers at the NYU School of Medicine observed 12,990 adults admitted at selected NYU Langone hospitals in the NYC area between March 10 and May 20 for new onset neurological symptoms. Out of these patients, 4,491 test positive for COVID-19. Of those, 606 reported neurological symptoms including:
Brain damage or dysfunction
Hypoxic injury
Seizure
Stroke
Other findings of note from the research:
50% of patients who developed neurological symptoms were age 72+
Patients without neurological symptoms were a median age of 63
66% of patients who developed neurological symptoms were men
35% of patients who developed neurological disorders died of COVID-19
"Our study results suggest that physicians need to be more aggressive in stabilizing body oxygen levels in patients with COVID-19 as a potentially key therapy for stopping, preventing and/or possibly reversing neurological problems," said Dr. Galetta, the Philip K. Moskowitz, MD, Professor and chair of the Department of Neurology at NYU Langone.
At Eichen Crutchlow Zaslow, LLP, we represent victims of brain injuries and other types of medical negligence. If you or a loved suffered a preventable medical injury, find out how we can help. To arrange a free consultation about your case, call us today at 732-777-0100, or leave us a message through our contact form. We handle cases throughout the state from our offices in Red Bank, Toms River, and Edison.
Related Content:
Gov. Murphy Signs Legislation to Improve Nursing Home Care
Beware: FDA's List of "Toxic" Hand Sanitizers Keeps Expanding
COVID-19 and Underlying Conditions
Eichen Crutchlow Zaslow, LLP's COVID-19 Response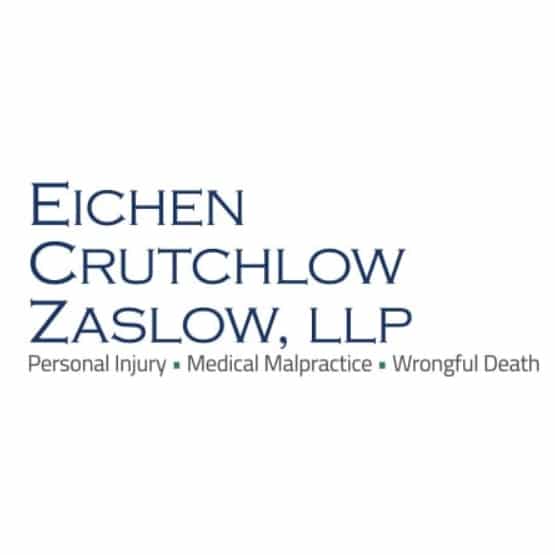 Eichen Crutchlow Zaslow, LLP has purposely remained small in size, because it is important to us that we get to know our clients and their needs. Larger NJ injury firms may churn out case after case, but that's not how we operate. Partners Barry Eichen, William Crutchlow, and Daryl Zaslow have created a firm with the resources to handle complex litigation, and a team that takes your case personally.
Find out more about Eichen Crutchlow Zaslow, LLP