Warm Weather Slip and Fall Risks
With the return of the warm weather, people are gravitating outdoors to walk, run, visit the playground or park, garden, and generally relax.  Warm weather also entices people to become more active, whether it is spring cleaning the house or shopping for summer supplies.  Unfortunately, all the increased activity also increases the risk of injury from slips and falls.
Many people are able to laugh off a slip, trip, or fall. But in some cases, serious injury can occur.  Broken hands, arms, shoulders, head and back injuries, as well as cuts, scrapes, and lacerations can land victims in the emergency room or even the operating room.  Warm weather activities raise the risk of suffering serious injury when these types of accidents occur in public places, such as playgrounds, parks, and recreation areas.
Who Is Responsible for Your Injury?
When you are injured from a slip, trip, or fall due to the carelessness or negligence of the landowner or proprietor, you may be entitled to compensation.
Places such as playgrounds, parks, lake areas, recreation areas, and shopping or entertainment centers have a responsibility to maintain and repair their establishments, keeping them free from unnecessary hazards.  Homeowners also share in this responsibility when people are on their property.  When they fail to do so, injured victims may be able to collect compensation through a lawsuit.
Playground equipment, park benches, sidewalks, trails, parking lots, and public areas should be well maintained.  Evidence is crucial for a successful outcome to a premises liability claim.  The burden of proving the negligence of the responsible party falls on the injured victim.  For example, if your child is injured because they fell off a broken slide, the municipal government or landowner can be held liable for not fixing the slide.
Uneven sidewalks, potholes in parking lots, broken handrails on stairs, poor lighting, and torn carpet or broken floor tile can all cause a person to slip or fall and cause a serious injury.  The injured party must prove that the landowner or proprietor responsible for the maintenance of the area failed to repair these issues in a reasonable amount of time, and that this negligence was directly responsible for their injury.
Personal Injury Laws
Personal injury and premises liability laws are very specific and can be overwhelming to navigate. Consultation with an experienced slip and fall lawyer can ensure that you are able to collect the compensation you are entitled to receive.  A skilled lawyer can gather pertinent evidence that will prove that their negligence resulted in your injury. Using their knowledge of federal and state laws, a reputable personal injury lawyer can fight for the maximum amount of compensation available for the type and severity of your injury.
New Jersey Slip and Fall Lawyers at Eichen Crutchlow & Zaslow, LLP Help Injured Victims Claim the Compensation They Deserve
A slip or fall can happen just about anywhere, but when they result in injuries due to the negligence or carelessness of the property owner, victims may be able to pursue compensation via a premises liability lawsuit.  The experienced New Jersey slip and fall lawyers at Eichen Crutchlow & Zaslow, LLP will work diligently to ensure that your rights are protected, and that you obtain the maximum amount of compensation available.
Call us at 732-777-0100 or contact us online to schedule a consultation today.  Our Edison, Red Bank, and Toms River, New Jersey offices serve clients throughout the state.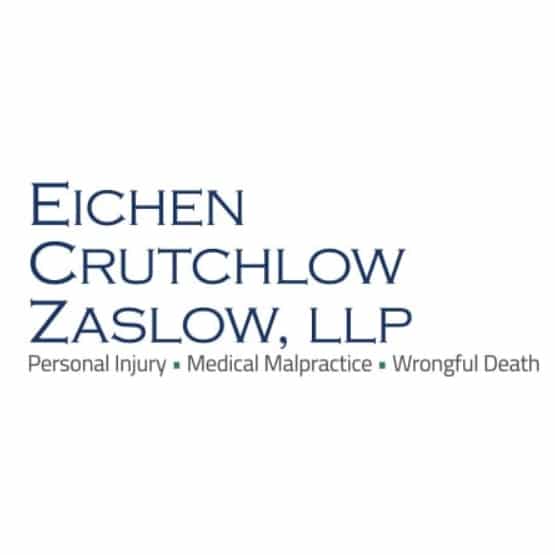 Eichen Crutchlow Zaslow, LLP has purposely remained small in size, because it is important to us that we get to know our clients and their needs. Larger NJ injury firms may churn out case after case, but that's not how we operate. Partners Barry Eichen, William Crutchlow, and Daryl Zaslow have created a firm with the resources to handle complex litigation, and a team that takes your case personally.
Find out more about Eichen Crutchlow Zaslow, LLP