NJ Construction Company Altor Inc. Paid $442,000 in Fines to OSHA
Construction workers have hazardous jobs by definition. They're working with dangerous power tools, sharp hand tools, and heavy materials and equipment. They also have to trust that others working around them know what they're doing, and take proper safety precautions.
Construction companies work under contracts, many of which have clauses dealing with penalties for delays. Delays can occur due to materials being in short supply, weather affecting various phases of construction, and worker injuries. A contractor that states a job will be complete by a certain deadline may wind up paying a per-day fine for each day the project exceeds the completion date. Avoiding penalties and maintaining profit margins is sometimes more of a priority to contractors than protecting workers. Cutting corners often means a failure to follow required safety procedures when the finish line is bearing down on you. Unfortunately, sacrificing safety for profit causes construction accidents.
One New Jersey construction company just learned the hard way that you can't throw safety aside and endanger your workers. OSHA cited Altor, Inc. years ago after a 1998 investigation showed numerous willful safety violations of fall protection standards at an Edgewater, New Jersey construction site. Falls are one of the top four causes of serious work related injuries and deaths for construction workers. The other three causes include electrocution, being struck by an object, and being caught in between objects.
Fall protection is not optional in the construction industry
Fall injuries can be significantly minimized when proper protocols are followed. Fall protection requires that work areas be prepared to prevent falls from overhead platforms, elevated work stations or into holes in the floor and walls based on the following guidelines:
General industry workplaces 4 feet
Shipyards 5 feet
Construction industry 6 feet
Longshoring operations 8 feet
Working over dangerous equipment and machinery also requires fall protection no matter the potential distance a worker could fall. OSHA also requires that employers provide construction workers with protective equipment free of charge and train them about job hazards.
Fall protection procedures include proper placement of guard rails, toe boards, or covers for:
Floor holes where workers are at risk of falling in and breaking a leg, straining a ligament, or experiencing another injury
Elevated open sided platforms, floors or runways
Dangerous machines or equipment
Depending upon the job site, workers may also require use of a safety harness and line, nets, stair railings, and handrails. Altor, Inc. was building a high-rise in Edgewater, New Jersey, which would have required some, if not all, of these safety precautions being taken. The safety violations were so excessive that the company was fined $412,000 and paid an additional $30,000 in post-judgment interest.
Construction workers can suffer from traumatic brain injuries, spinal cord damage, broken bones, loss of limbs, puncture wounds, burns and a lengthy list of other physical harms at every turn. These injuries can mean your career coming to an end and your life changing forever. Paralysis or brain damage may require expensive lifetime care, and your employer should be responsible.
When you work in an industry that requires putting your physical safety in jeopardy, it would make sense that your employer would want to keep you safe. When that doesn't happen, you could become severely injured or even die. The New Jersey construction accident attorneys at Eichen Crutchlow Zaslow, LLP take construction site safety seriously. If you have been involved in a construction accident that resulted from negligence, you deserve to understand your legal rights. To schedule your free, no obligation consultation in our Edison, Toms River, or Red Bank offices, call 732-777-0100, or reach out to us through our contact page.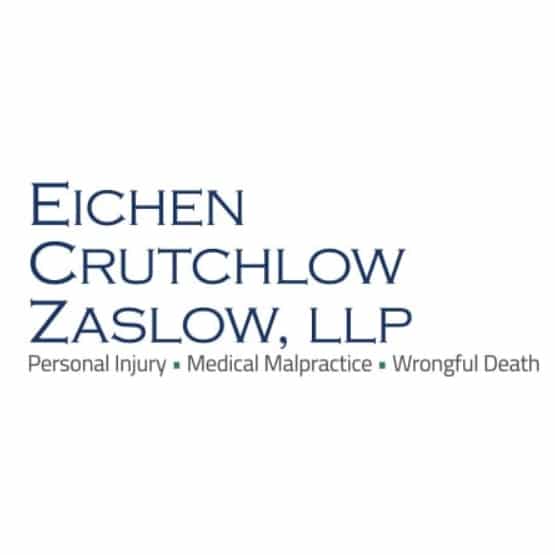 Eichen Crutchlow Zaslow, LLP has purposely remained small in size, because it is important to us that we get to know our clients and their needs. Larger NJ injury firms may churn out case after case, but that's not how we operate. Partners Barry Eichen, William Crutchlow, and Daryl Zaslow have created a firm with the resources to handle complex litigation, and a team that takes your case personally.
Find out more about Eichen Crutchlow Zaslow, LLP