New Jersey Turnpike Continues to be a Dangerous Road for Travelers
Tens of thousands of vehicles use the New Jersey Turnpike throughout the state every day. With speeds in excess of 60mph in most parts, accidents are commonplace the entire length of the highway. Whether you are a New Jersey resident, someone who works in the Garden State from a neighboring state, or a visitor, the highway poses a lot of danger for everyone.
The western spur of the highway near Kearny, New Jersey, was closed for an extended period at the end of May 2021 due to a six-vehicle crash that sent one victim to the hospital via helicopter with serious injuries. The crash occurred around 3:30 in the afternoon on Wednesday, May 26, and the lanes were still closed to traffic well past 6 pm due to an ongoing investigation into the cause of the New Jersey car accident. According to the Turnpike Authority, the backup stretched for more than three miles from Newark to past the 15W interchange with Route 280.
And NJ drivers? They didn't blink an eye. We're all used to it by now. Multi-car wreck on a Wednesday afternoon before the unofficial star of summer? Just another day on the Turnpike.
The NJ Turnpike had the second-highest number of crashes in 2019
According to the most recent data compiled by NJ.com, the Turnpike is the second most dangerous highway in New Jersey based on the number of accidents each year. There were 7,768 crashes on the entire Turnpike in 2019. (The Garden State Parkway is first on the list, with 9,672 crashes in 2019.) To compare, here is how other NJ highways measured up:
I-80 — 4,722 crashes
Route 46 — 4,166 crashes
I-295 — 3,139 crashes
I-78 — 2,915 crashes
I-287 — 2,886 crashes
Route 130 — 2,844 crashes
Why is the NJ Turnpike so heavily traveled?
The Turnpike has been nicknamed "The Monster Road," "The Big Road" and "The Black Dragon." It was named as one of the "Top 10 Absolute Worst Places to Drive in the World" by The Huffington Post. The NJ Turnpike is driven upwards of six billion miles per year by travelers from all over the country.
But there's a reason why the New Jersey Turnpike is so heavily traveled: it provides access to other major highways and is an oft-traveled route to New York. The highway spans 148 miles. There are portions of the highway that feature 14 lanes. It provides access to the following highways:
I-95
I-2276 Pennsylvania Spur
The Newark Bay extension
Route 70
The Garden State Parkway
Routes 295 and 73 in South Jersey
What makes the New Jersey Turnpike so dangerous?
Aside from the sheer volume of traffic and total miles driven each year, the NJ Turnpike is so dangerous because of its speed, the number of lanes, and the presence of tractor-trailers. (Semis can't travel on the GSP going north past exit 105). There always seems to be active construction sites on just about any stretch of the highway, making for an increased risk of accidents for drivers and construction workers.
It's dangerous enough that there are rules about which cops are assigned to it. In an interview from 2014, retired New Jersey State Police Major Al Della Fave said:
There are so many lanes, and the speed that drivers can attain, things happen very fast. Multiple lanes, high volume. So when somebody makes a mistake it's almost certain to be serious. It's always been a real source of pride for someone to say "I worked The Black Dragon." They don't even allow troops to go out there too soon — they want you to have a minimum of 18 months experience before you're even allowed to patrol The Turnpike.
How to minimize the risk of an accident on the New Jersey Turnpike
It's no secret that drivers in New Jersey like to drive fast. It's also no secret that most drivers on the NJ Turnpike don't adhere to the posted 65 MPH speed limit, even in active construction zones. For this reason alone, accidents are so frequent and serious on this stretch of the famous road.
So, how can you reduce the risk of being involved in an accident on the Turnpike? If you are traveling the highway for a long-distance trip, use the express lanes as much as possible. Doing so will keep you away from tractor-trailers. If you need to use the local lanes, which permit trucks, do your best to keep away from these vehicles.
Stay out of the blind spots of trucks as much as you can. Trucks can have blind spots in the rear, on the sides, and sometimes even directly in front of them. If you are driving in inclement weather, slow your speed, turn on your headlights, and leave plenty of room between your vehicle and the vehicle in front of you. If the weather is too dangerous to continue driving, utilize a rest stop and wait until the storm ends.
Finally, buckle up. According to NJ Spotlight News, "In 2019, 42% of passenger-vehicle occupants killed in New Jersey — 108 of 260 — weren't wearing seat belts, according to the National Highway Traffic Safety Administration. That percentage jumps to 55% for fatalities at night (between 6:00 p.m. and 5:59 a.m.)." the best thing you can do to stay alive is put your seat belt on.
Traveling on the NJ Turnpike is a challenge; picking the best injury attorney for your needs after a wreck shouldn't be. Call the experienced New Jersey car accident attorneys from Eichen Crutchlow Zaslow, LLP, at 732-777-0100, or complete the contact form on our website to schedule an appointment. We operate offices in Edison, Red Bank, and Toms River to serve clients throughout the state.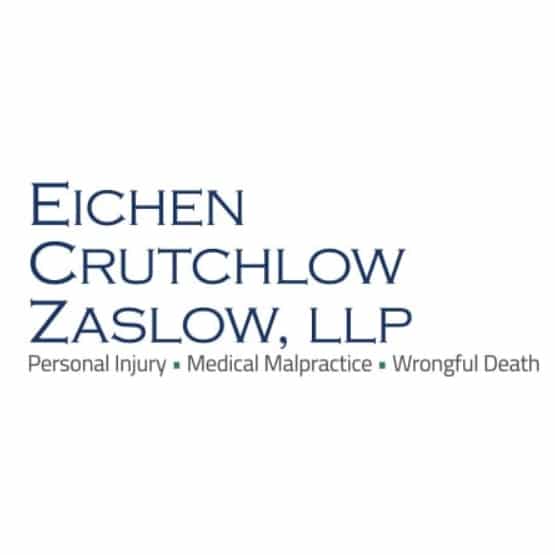 Eichen Crutchlow Zaslow, LLP has purposely remained small in size, because it is important to us that we get to know our clients and their needs. Larger NJ injury firms may churn out case after case, but that's not how we operate. Partners Barry Eichen, William Crutchlow, and Daryl Zaslow have created a firm with the resources to handle complex litigation, and a team that takes your case personally.
Find out more about Eichen Crutchlow Zaslow, LLP