Cars Crashing into Homes: What You Should Know About VIBCs
Around 11:30 a.m. on a Wednesday morning in January, a driver was traveling on the Garden State Parkway and lost control of her vehicle. Even more alarming, this resulted in the driver crashing into someone's home in Clifton, NJ, where the Garden State Parkway begins to intersect with the rest of the neighborhood.
The good news is, per ABC 7, no one died. Even the driver, who was injured, survived the wreck.
The bad news is that these types of collisions – sometimes called "incursions," sometimes called "vehicle-into-building crashes," or VIBCs – are more common than you might hope. One poor couple in Ocean Township suffered not one but two car incursion accidents in January. Hours after the couple signed the deal to buy their home, "a car lost control, went right through the Ocean Township home and ended up in Deal Lake," the New York Post reported. A week later, another car crashed into the same house.
According to the non-profit Storefront Safety Council (SSC), vehicles crash into buildings about 60 times a day, kill as many as 500 people a year, and hurt another 4,000. Streets Blog USA, which spoke with a co-founder of the SSC, the data showed that unintentional VIBCs resulted in:
An average of 20 people [being] hit by cars while standing at walk-up ATMs in America every single month; crashes into schools, churches and offices were also shockingly common. Most VIBCs — 87 percent — happen in stores, restaurants, and other commercial spaces; in addition to deaths and injuries, employees in these cases were often put out of work for months at a time while buildings were repaired.
What are the causes of car incursion accidents?
One of the common causes of these types of car accidents is pedal error. This type of error happens when the driver mistakes the brake pedal for the gas pedal, or vice versa. Although this type of mistake is accidental, it is more likely to happen with new drivers between the ages of 16 and 20, or old drivers aged 76 and above.
Another common cause of these types of car accidents is drunk or impaired driving. When a driver operates a vehicle under the influence of some type of substance, his or her judgment is significantly altered, preventing the driver from stopping the car in a reasonable and safe manner.
Car accidents involving buildings can involve defective vehicle parts, too. A car is at risk of malfunctioning from defective or deficient parts. Cars that spontaneously accelerate pose a strong risk of a VIBC, but so do vehicles with fault breaks.
Finally, traffic accidents can lead to VIBCs. A driver may attempt to avoid a collision and, in the process, veer off of the roadway and into a residence. If a driver is speeding and hits a curb or median, he or she can literally vault the car into a building.
Types of injuries caused by car accidents involving buildings
VIBCs are so dangerous because they pose a serious injury risk to everyone: drivers, passengers, and unsuspecting residents and workers. Depending on the circumstances – including the speed at which the vehicle hits the building – multiple people may suffer life-altering injuries such as:
In the most tragic circumstances, someone can die.
Liability for NJ car accidents involving buildings
Similar to a car accident involving another vehicle, the driver at fault can be held liable for the homeowner's injuries caused by the accident. As a result, the driver or the driver's insurance company can be responsible for compensating the homeowner for his or her medical expenses. If the homeowner suffers any missed wages or time away from work, the driver can also be held liable for lost wages as well.
What are the steps homeowners must take to help strengthen their case?
One of the most important steps homeowners must take is to report the accident to the police. After that, homeowners are advised to contact their homeowner's insurance policy. If possible, they should take pictures of the damage and their injuries.
Should I file a personal injury lawsuit after a VIBC?
If you are hurt because a car comes crashing through a building and into you, then yes – you should consider a personal injury lawsuit. While your homeowners' insurance should cover the cost of repairs, and your health insurance should cover your medical bills, you still have a right to seek damages when someone else's negligence causes you harm.
Furthermore, you should not be forced to pay for these expenses yourself – especially when VIBCs often lead to injuries so severe that you cannot work, or may require long-term medical treatment and around-the-clock care. Filing a personal injury lawsuit can help you recoup these expenses.
What if I'm injured after driving a car into a building?
If you are the driver AND the injured party, you will have to file a claim with your own car insurance company. In addition to medical expenses, PIP coverage offers compensation for lost wages, childcare services, funeral expenses, and household services in particular cases. However, like many insurance policies, PIP coverage stops at a particular limit. This means that if the amount of damages exceeds the amount of coverage, the entire amount may not be covered through the policy. And, if your PIP does not cover the extent of your injuries, you will be on the hook for paying for them yourself.
From offices in Edison, Red Bank, and Toms River, the New Jersey car accident lawyers at Eichen Crutchlow Zaslow, LLP advise and represent clients in personal injury and wrongful death litigation matters throughout New Jersey. From wherever you are, call our office at 732-777-0100, or complete our contact form to arrange a free consultation with an experienced New Jersey car accident lawyer at an office nearest to you.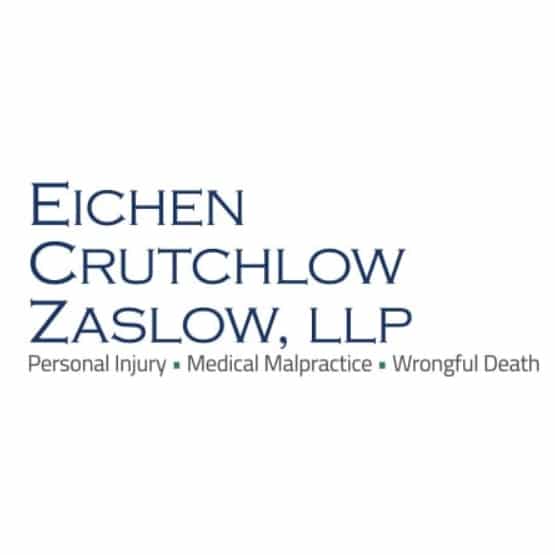 Eichen Crutchlow Zaslow, LLP has purposely remained small in size, because it is important to us that we get to know our clients and their needs. Larger NJ injury firms may churn out case after case, but that's not how we operate. Partners Barry Eichen, William Crutchlow, and Daryl Zaslow have created a firm with the resources to handle complex litigation, and a team that takes your case personally.
Find out more about Eichen Crutchlow Zaslow, LLP