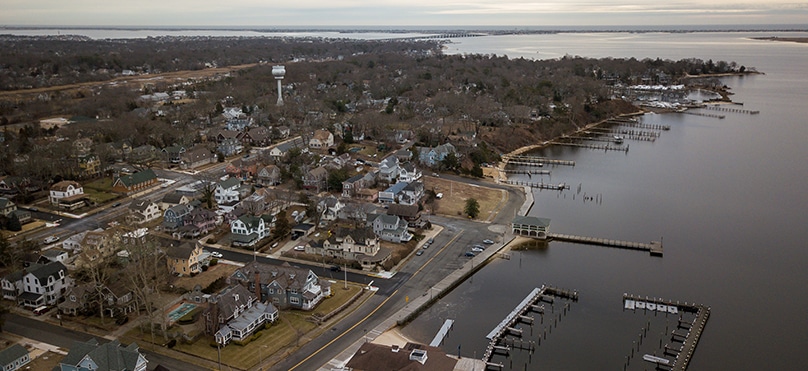 Toms River Personal Injury Attorneys
Fighting tenaciously for the people of Ocean County, New Jersey
Toms River is one of the most populous municipalities in Ocean County, as well as the county seat. Its close proximity to the Jersey shore attracts a mix of diverse residents and tourists, both to the mainland and the Barnegat Peninsula. It's home to state parks, wildlife refuges, and historical societies – as well as thousands of citizens of New Jersey.
Toms River is also centrally located, with many highways crisscrossing the area, including the Garden State Parkway and U.S. Route 9, Route 35, Route 37, Route 70, Route 166, County Route 527, County Route 530, County Route 549, and County Route 571.
Regardless of where you live, however, you need someone on your side. You may be the most cautious and law-abiding person in the world, but that cannot protect you from another party's negligence. And if that person's carelessness causes you injury, that's where the personal injury lawyers at Eichen Crutchlow Zaslow, LLP step in to protect you. We fight aggressively to secure you the compensation and damages for the losses you've suffered.
Dedicated advocacy for injury victims in New Jersey
After a serious accident, a patient can take months or even years to heal from his or her injuries. The recovery and healing process can be arduous, as well as physically and emotionally taxing. On top of this, financial obligations may be overwhelming. A skilled legal team can take some of the pressure off the patient and his/her family, giving them the time he/she needs and – with a successful claim – the resources needed to move forward with his or her life.
Accidents happen in the blink of an eye, here in Toms River and throughout the state. And just as quickly, catastrophic injury can alter your life forever. Our attorneys have an established record of success and will put that experience to work for you in all types of personal injury cases, including:
Bicycle and pedestrian accidents
Birth injuries
Burn injuries
Bus accidents
Catastrophic injuries
Class action and mass tort
Construction site injuries
Dog bite accidents
Motorcycle accidents
Premises liability
Product liability
Train accidents
Wrongful death
When we partner with you as a client, we fight aggressively for your rights. Our only goal is to hold the guilty person or entity responsible and secure for you the compensation you're owed for your injuries. We will not settle for less, and we believe reckless and negligent parties should be held accountable for their behavior.
What are the most common types of personal injuries?
Medical professionals will tell you that no two patients will respond to the same injury in the same way. One patient may heal from a broken bone in six weeks; it may take another patient six months. In this way, every injury is a potentially serious one.
Some are catastrophic. Catastrophic injuries are called such because they are extremely physically traumatic and result in lifelong significant injury, such as permanent disability, brain damage, or paralysis.
In our practice, however, we tend to see some of the same injuries frequently:
Breaks and fractures
Soft tissue injuries, like whiplash
Repetitive stress injuries
Traumatic brain injuries
Back and neck injuries
Wrongful death
If your loved one loses his or her life due to someone else's negligence, you may be able to bring a wrongful death action. Our legal team can give you guidance.
When you talk to your Toms River personal injury lawyer
After a serious accident or injury, you may be searching for information and advice on what to do next. Of course, your first priority should be receiving medical attention. Next, you should schedule a consultation with an Ocean County attorney as soon as possible. Here's what to expect to discuss during that consultation.
The reason you should consult with a personal injury lawyer as soon as possible is because there is a two-year statute of limitations on filing personal injury lawsuits in New Jersey. An attorney can help ensure you don't miss this deadline.
What were the initial injuries suffered at the time of the accident? Are you dealing with ongoing issues from that injury (infections, scarring, impairment, permanent disability)?
Keep detailed track of your medical bills and records. You'll want to note the costs of doctor visits, treatments, medications, and therapies you receive as a result of your accident and injuries.
Serious injuries require time to heal. If you've lost paychecks and wages while recovering from your injuries, you can recover these losses in your claim.
You may also claim non-financial losses, such as emotional distress and pain and suffering. Many accident and injury victims suffer from anxiety, depression, or decreased quality of life.
The injury lawyers at Eichen Crutchlow Zaslow are completely compassionate to your situation, and can answer all of your questions. We're here when you need us and stand with you throughout the entire process.
Personal injury representation in Ocean County
With three office locations for our clients throughout New Jersey, our Toms River office is located at 563 Lakehurst Road, near Route 37W (and off the Garden State Parkway, Exit 82). There is also NJ Transit rail service to Toms River, and taxi service within the municipality.
Important local phone numbers
If you're in an accident in the Toms River area, there are a few steps you can take to protect yourself. Our attorneys can come meet with you or your loved one in the hospital if you are too seriously injured to leave – it's important to discuss details while they are still fresh in your mind.
Above all, however, when you are injured, the first thing you should do is get medical or emergency assistance. For any police, fire, or medical emergency, always dial 911.
Toms River Police Department, non-emergency calls: 732-349-0150
Ocean County Police Department, non-emergency calls: 732-349-2010
New Jersey State Police: 609-882-2000
Local hospitals
Community Medical Center, Toms River
Hackensack Meridian Health Ocean Medical Center, Lakewood
HealthSouth Rehabilitation Hospital, Toms River
Barnabas Health Heart Centers, Toms River
Children's Specialized Hospital Toms River Lakehurst, Toms River
Important local government offices and information
Toms River Municipal Court is located at 255 Oak Avenue, Toms River, NJ 08753. Their phone number is 732-797-3914.
Ocean County Court is located at 118 Washington Street, Toms River, NJ 08754. Their phone number is 732- 929-2042.
State Board of Medical Examiners Complaint Form (for medical malpractice complaints).
Types of Cases We Handle
Our Toms River attorneys handle a variety of cases, including:
Skilled and experienced Ocean County personal injury lawyers
The Toms River attorneys at Eichen Crutchlow Zaslow, LLP are tenacious personal injury advocates with an established record of success. We fight for compensation for people severely injured by the negligence of others. Call us at 732-777-0100 or fill out our contact form to set up a consultation today.
---
Toms River, NJ Office
563 Lakehurst Road
Toms River NJ 08755
Telephone: 732-575-1400
Fax: 732-281-5591