Retailer Liability in New Jersey Defective Product Claims
Retailers have a legal responsibility to ensure that the products they sell are free from inherent risks to the consumer when used properly. When a consumer is injured by a defective or dangerous product, they may be able to sue the retailer that sold them the merchandise via a product liability lawsuit. In New Jersey, plaintiffs can sue the retailer for their injuries and damages in three different ways.
In a general product liability lawsuit, the plaintiff must prove that a defect in the product caused their injury, that the product was defective at the time of the sale, and that the retailer's negligence in selling the product led to the consumer's injury. In a strict liability lawsuit, the plaintiff does not have to prove that the defendant was negligent. An injured consumer can also sue a retailer for a breach of warranty.
Retailer Negligence in Product Liability Lawsuits
If a retailer willingly sells a product that has been recalled, they can be held liable for negligence. In the same sense, a retailer that sells a product without informing the customer of safety issues or instructions for safe operation of a product, they too can be held liable for negligence in a product liability lawsuit.
The burden of proving the retailer's negligence falls on the injured victim. For this reason, it is imperative that the plaintiff consult with a reputable and experienced product liability lawyer. Hard evidence must be gathered that shows that the retailer willingly and knowingly sold a product that was defective. A competent product liability lawyer will ensure that critical information about the manufacturing and distribution of a defective product was available to the retailer prior to them selling the product to the injured plaintiff.
Strict Liability Tort
In some cases where a consumer is injured by a defective product, the strict liability tort releases the plaintiff from having to prove the retailer's negligence. Product liability laws help protect the general population from retailers that sell defective or dangerous products for profit. Retailers are motivated to ensure their merchandise is safe when they know they can be held liable for damages in a strict liability lawsuit that does not require the plaintiff to prove retailer negligence.
Breach of Warranty
When a retailer fails to keep a written, oral, or inherent promise to a consumer, they can be sued for a breach of warranty. Warranties give the consumer an expectation for quality, safety, and reliability of a product. In some cases, written warranties are given or sold for products, and in other cases, warranties are verbally given by sales personnel.
Inherent warranties include reasonable expectations for a product. For example, when a consumer buys a car from a dealership, they can assume that the vehicle is free from manufacturing defects and has had any recalled issues corrected. If a consumer is injured in a car accident due to a defective part not identified prior to the sale of the vehicle, then they could sue the car dealership for breach of warranty.
New Jersey Product Liability Lawyers at Eichen Crutchlow Zaslow, LLP Advocate for Clients Injured by Defective Products
If you or someone you know has been injured by a defective product, you may be entitled to compensation. Call the experienced New Jersey product liability lawyers at Eichen Crutchlow Zaslow, LLP at 732-777-0100, or contact us online to schedule a consultation today.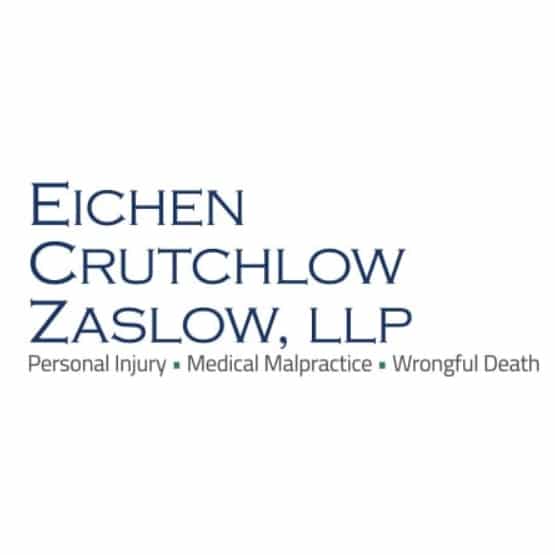 Eichen Crutchlow Zaslow, LLP has purposely remained small in size, because it is important to us that we get to know our clients and their needs. Larger NJ injury firms may churn out case after case, but that's not how we operate. Partners Barry Eichen, William Crutchlow, and Daryl Zaslow have created a firm with the resources to handle complex litigation, and a team that takes your case personally.
Find out more about Eichen Crutchlow Zaslow, LLP