Hotel Bathroom Slip and Falls
In your shower at home, you likely have many comforts and conveniences as well as safety features such as slip resistant coatings, a water draining mat, and possibly a handrail. But when you travel, the hotel bathroom may be putting you at risk for a serious injury.
Hotels frequently choose luxurious looking finishes over slip-proof surfaces. Compounding the safety risk, hotels tend to be large, with many rooms, common areas, and recreational areas. When something is damaged, such as a torn bathroom mat, it may go unnoticed, especially when the hotel is understaffed to cut costs. It makes sense that hotel bathroom slip and falls are a common accident.
Who Is Liable for Hotel Bathroom Slip and Falls?
Under New Jersey premises liability laws, hotel guests are considered "invitees." This means that hotel owners have a duty to maintain safe conditions on the hotel premises. Once a dangerous situation like a slick floor is discovered, the owner must remediate it, or they could be found liable if a guest is injured.
Hotels should have appliques or rubber mats available for showers, as well as a bathmat for the floor. Ideally, there should also be handrails on the bathtub and shower walls. These should all be in good condition and fully functional.
Hotel Slip and Fall Accidents Are Serious
Many people do not realize how serious injuries from a slip and fall accident can be. According to the Centers for Disease Control and Prevention (CDC), every year 234,000 Americans visit emergency rooms as a result of bathroom slip and falls. Many of these falls result in traumatic brain injuries (TBI) and even paralysis. Slip and fall accidents are often most serious for older adults; and those over the age of 85 are at a particularly high risk for breaking bones in bathroom slip and fall accidents.
Bathrooms in particular are such dangerous areas because of the combination of slick surfaces, water, and the small size of the area of confinement—making head injuries more likely (people commonly strike their head on the sink or bathtub rim).
Common injuries from bathroom slip and falls include:
TBI
Skull fracture
Hip injury
Spinal injury
Neck fracture
Broken bones
Contusion
Concussion
Getting Back on Your Feet After a Fall
After falling you should seek medical attention, even if you do not experience any pain or symptoms, as sometimes the symptoms can be delayed for days or weeks. Early treatment is essential to a full recovery.
Injuries from slip and fall accidents can be severe, and the medical bills can be astronomical. If you have fallen in a hotel bathroom, and the hotel's negligence was the cause of your injuries, you may be entitled to monetary compensation for medical bills (past and future), lost wages, and pain and suffering.
It is important to contact an experienced New Jersey slip and fall lawyer immediately following your accident. You have only a limited amount of time to file a claim, so it is important to contact an experienced attorney right away so that they can start building your case.
New Jersey Slip and Fall Lawyers at Eichen Crutchlow Zaslow, LLP Handle Hotel Premises Liability Claims
At Eichen Crutchlow Zaslow, LLP our experienced New Jersey slip and fall lawyers have a proven record of attaining successful results for our clients. With offices in Toms River, Edison, and Red Bank, New Jersey, we provide free, no-obligation consultations to clients throughout the state. To learn more about how we can help you, call us today at 732-777-0100 or contact us online.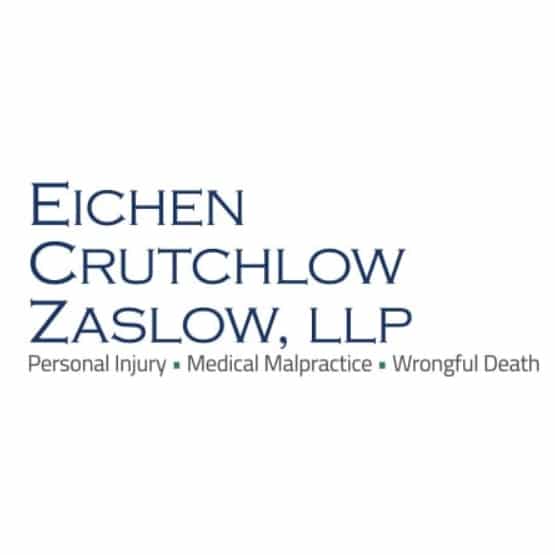 Eichen Crutchlow Zaslow, LLP has purposely remained small in size, because it is important to us that we get to know our clients and their needs. Larger NJ injury firms may churn out case after case, but that's not how we operate. Partners Barry Eichen, William Crutchlow, and Daryl Zaslow have created a firm with the resources to handle complex litigation, and a team that takes your case personally.
Find out more about Eichen Crutchlow Zaslow, LLP