Lawsuits Being Filed against State of NJ for COVID-Related Deaths at Veterans Homes
Over the last few weeks, the number of COVID-19 cases has started to flatten, and the number of deaths has decreased. If you ask, the governor and his staff will tell you it's because NJ residents abided by social distancing guidelines, practiced good hygiene, and wore masks and other types of personal protective equipment (PPE) when out and about in public. All of this was designed to protect our most vulnerable populations.
Despite these efforts, NJ's nursing homes reported thousands of residents developing the virus, and thousands of them dying. New Jersey's veterans' homes were especially hard hit: Menlo Park has 282 confirmed cases and 63 deaths, and Paramus has 292 confirmed cases and 82 deaths for residents and staff, as of June 22nd. (Vineland is currently testing their entire staff and all residents; they have 33 confirmed cases and 3 confirmed deaths.)
Of the three state-run veterans' homes, Paramus suffered the most. Their resident infection rate is 98% – which is no surprise, considering staffers told NorthJersey.com that "that they initially were told not to wear masks, gowns or gloves because it would scare the residents."
Why was no one wearing masks?
On March 3rd, the New Jersey Department of Health issued guidance based on protocols developed by the Centers for Disease Control & Prevention (CDC) and the Occupational Safety & Health Administration (OSHA). That guidance states the following:
"CDC and OSHA recommend that healthcare workers wear:
Gown
Gloves
Eye/face protection (e.g., goggles, face shield)
National Institute for Occupational Safety and Health (NIOSH)-certified, disposable N95 or better respirators. Use respiratory protection as part of a comprehensive respiratory protection program that meets the requirements of OSHA's Respiratory Protection standard (29 CFR 1910.134) and includes medical exams, fit testing, and training."
On March 30th, New Jersey Health Commissioner Judith Persichilli ordered "universal masking" – a full 27 days after the initial guidance was issued. It took almost a full month before the nursing staff at Paramus was ordered to wear masks.
New Jersey's veterans' hospitals are toxic
About 7% of all COVID-related veterans' deaths happened at New Jersey VA hospitals. NorthJersey.com reports that "More veterans and staff have died from coronavirus infection at the Veterans Administration medical centers in New Jersey than at VA facilities in any other state." The numbers led Senator Cory Booker to ask for federal help in investigating what went wrong, and how to improve care at our veterans' facilities:
[Senator] Booker described how one veteran had been turned away from the medical center in East Orange after describing symptoms of long-term fever, cough and gastrointestinal symptoms. He was not tested for COVID-19 and was given some medication for his digestive symptoms, according to the senator. Shortly afterward, the man was taken by ambulance to a local hospital, where he tested positive and was admitted for several days.
Senator Booker also discussed concerns about the Lyons VA Medical Center in Somerset County, which did not follow CDC guidelines. Neither of the facilities Senator Booker discussed are run by the state, but these examples speak to the failures of veterans' homes throughout New Jersey.
Why NJ could be held liable for the infections and related deaths
Because New Jersey runs the veterans' facilities in Paramus, Menlo Park, and Vineland, it is ultimately accountable for the health and safety of its residents, just as a private owner would be. Furthermore, it took nearly a month for the Health Commissioner to mandate and enforce "universal masking," despite ample evidence that COVID-19 was spreading throughout nursing homes and residential facilities. Finally, if the evidence bears out that facilities forced staff to avoid wearing PPE, it could constitute gross negligence by the State.
How do you sue the state of New Jersey?
Suing a government, however, is not like suing a private enterprise. Typically, you have two years to file a personal injury lawsuit (exceptions apply) in New Jersey, but the statutes of limitations for claims against the government are significantly shorter for claims filed under the Tort Claims Act.
First, you only have 90 days in which to file your formal notice of your intention to sue. The form you use depends on who you sue: the state gets one form, and municipalities get others. You must name every potential liable party in your suit, and send formal notices to all of them. If you miss the 90-day deadline, you may be barred from filing a lawsuit forever, unless a notice is filed within one year and the Court finds extraordinary circumstances for not filing the notice within 90 days. (Note: this only applies to the issue at hand. You can sue New Jersey for a different reason at any time, but the same 90-day rule applies.)
From there, the state and/or municipality has six months to review your claim. You must wait for the six months to pass before you can file a lawsuit.
New Jersey veterans deserve better than this. At Eichen Crutchlow Zaslow, LLP, we fight for the elderly, veterans and their families. If you would like to learn more about filing a claim against New Jersey, or if you have questions about how you can help your family member who developed COVID-19 as a result of negligence, please call us at 732-777-0100, or contact us today. We maintain offices in Edison, Toms River, and Red Bank, and are currently offering free phone and video consultations to ensure the safety and health of our clients.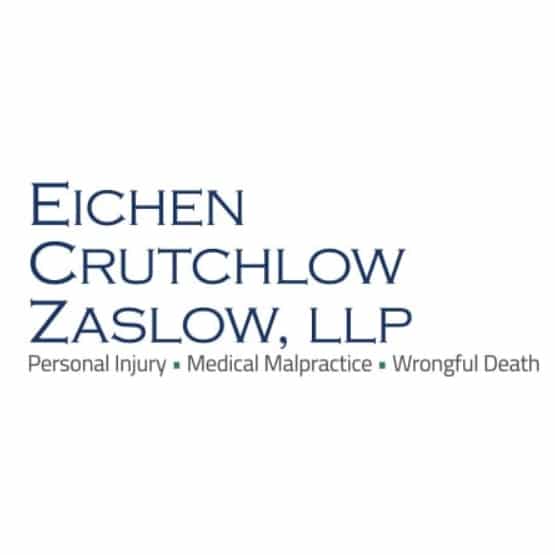 Eichen Crutchlow Zaslow, LLP has purposely remained small in size, because it is important to us that we get to know our clients and their needs. Larger NJ injury firms may churn out case after case, but that's not how we operate. Partners Barry Eichen, William Crutchlow, and Daryl Zaslow have created a firm with the resources to handle complex litigation, and a team that takes your case personally.
Find out more about Eichen Crutchlow Zaslow, LLP