Personal Injury and Product Liability Lawsuits for Warehouse Injuries
During the COVID-19 crisis, companies such as Amazon and many local retailers are under increased pressure to deliver essential and less essential products to consumers throughout New Jersey and across the country. Part and parcel of delivery work is picking up inventory and products from warehouses, loading the goods into trucks, and then unloading the merchandise at other warehouses or directly to the consumer.
Full-time employees of these warehouses are generally required to file workers' compensation claims if they are hurt. There are two major exceptions.
Independent contractors and employees of other companies can file personal injury lawsuits against warehouse for negligence.
All warehouse workers, including employees of the warehouse, have the right to file product liability claims against the makers and sellers of defective tools and equipment.
If a non-employer causes an accident that non-employer may also be liable.
Compensation for warehouse injuries
Workers at any warehouse can suffer many different types of injuries that can require emergency medical care and long-term medical care. Victims of warehouse injuries who have a personal injury or products liability claim are entitled to compensation for their:
Physical pain and emotional suffering
Medical expenses include ER costs, hospital care, time with physicians and therapists, medications, and other medical expenses
Lost wages or lost income due to an accident
Other legal damages that may apply such as punitive damage for wanton and malicious conduct
Common types of warehouse injuries
Some of the more common types of warehouse accidents include:
Forklift accidents. Safety and Health Magazine cites an estimate by the Occupational Health and Safety Administration (OSHA), that 35,000 serious forklift injuries happen each year. Forklift trucks help warehouse workers load, raise, lower, unload, and move the boxes and packages that arrive at the warehouse every day. Many injuries occur when the load falls, the truck turns over, or the forklift pins another worker against a wall or an object.
Overexertion injuries. These back, neck, shoulder, and other injuries occur when workers lift, pull, push, and carry heavy objects. The injuries can cause acute pain or chronic pain. Some overexertion injuries may cause a heart attack.
Slip and falls or trips and falls. Amazon and other warehouse workers can easily slip on slippery or uneven surfaces, trip over merchandise or work tools, fall over cords or wires, or lose their balance while on a ladder or above the ground.
Truck accidents. Common warehouse trucking accidents include backing up accidents and accidents in parking areas. Many trucking accidents at warehouses happen due to fatigue and due to poor communication.
Other common warehouse accidents include:
Loading dock accidents such as when a worker is knocked off the loading dock or because of carbon monoxide poisoning
Being struck by an object such as falling merchandise or colliding with another worker.
Being stuck between objects such as between a forklift and a cart
Spills of hazardous materials and chemicals
Warehouse injuries include:
Traumatic brain injuries
Spinal cord damage
Amputation
Broken bones
Bruises, muscle tears and ligament damage
Paralysis
When a worker dies due to negligence or product defects, the family has the right to file a wrongful death action.
At Eichen Crutchlow Zaslow, LLP, our New Jersey injury lawyers work aggressively to show that injuries are due to product defects and company negligence. We fight to show workers are entitled to file personal injury claims based on their independent contractor status. For help with any warehouse accident, call our experienced trial lawyers. We have offices in Edison, Red Bank, and Toms River. Call us at 732-777-0100 or leave us a message through our contact form to schedule an appointment.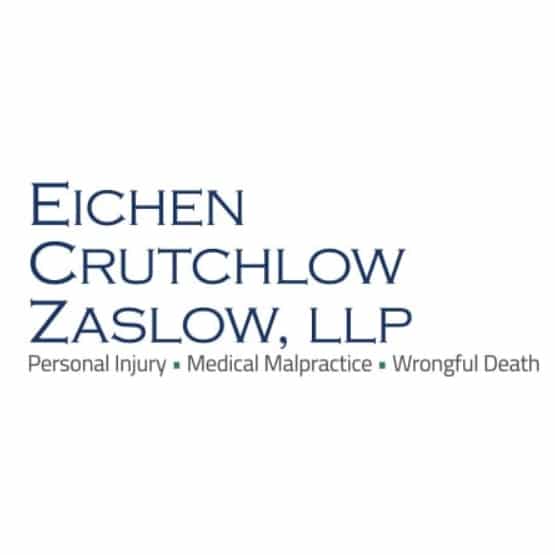 Eichen Crutchlow Zaslow, LLP has purposely remained small in size, because it is important to us that we get to know our clients and their needs. Larger NJ injury firms may churn out case after case, but that's not how we operate. Partners Barry Eichen, William Crutchlow, and Daryl Zaslow have created a firm with the resources to handle complex litigation, and a team that takes your case personally.
Find out more about Eichen Crutchlow Zaslow, LLP