New Jersey Transit Rail Bridge Struck by Truck in Hawthorne
The bed of a truck struck a New Jersey Transit rail bridge on the morning of Monday, June 14, in Hawthrone, causing the truck to overturn. The incident caused rail service to be delayed for a short time while emergency responders cleaned up the scene and investigators could examine the bridge for any structural damage.
The driver of the truck left the bed in the upright position after delivering a trash container at a site close to the bridge. The bed portion of the truck hit the NJ Transit rail bridge on Wagaraw Road. The truck driver was taken to St. Joseph's University Medical Center in Paterson and has been charged with careless driving. The driver sustained non-life-threatening injuries in the truck accident.
The accident caused a crack in one of the cement beams of the bridge, but investigators deemed that the bridge was safe to use, and rail service resumed later that morning. According to emergency services personnel, more than 30 gallons of hydraulic fuel spilled onto the street during the crash.
Why are commercial trucks and tractor-trailers so dangerous?
Trucks vary in size and length depending on what they are used for: hauling dirt, hazardous materials, fuel, packaged goods, other vehicles, and much more. Trucks are dangerous vehicles that cause a lot of damage when involved in an accident with properties, smaller vehicles, and people. Despite being dangerous, trucks are vital to the economy of New Jersey and the rest of the country. Bulk goods can only be delivered in two ways: via train or truck. With multiple delivery destinations for many bulk goods, trucks are a better option than trains.
But it isn't just that there are so many trucks on the road; it's the sheer size of the trucks that pose inherent dangers.
Trucks are heavy
Trucks are approximately 20 times heavier than most passenger vehicles, which means when these two collide, the occupants of the passenger vehicle are at higher risk of suffering serious injuries and death compared to the truck driver. The passenger vehicle will also suffer more extensive damage than the truck that hit it.
Because of their excessive weight, trucks require a much longer distance to come to a complete stop than small vehicles. If a truck is following too close or speeding, it will need a lot of space and time to stop before colliding with another truck, a smaller vehicle, or a property.
Trucks are long
Trucks are very long, most of them 53 feet in length just counting the trailer. If you add the length of the cab, a truck can be around 70 feet or more in length. Because of this, tractor-trailers have blind spots where the truck drivers simply cannot see. It doesn't matter how safely the truck driver operates their truck, if there is a smaller vehicle in the blind spot, they won't be able to see it. Many truck accidents happen when a vehicle is in the blind spot of a truck that attempts to turn or change lanes.
Truck drivers are required to make gradual lane changes after signaling for an advanced amount of time. However, this isn't always the case as trucks are speeding and need to change lanes quickly in order to avoid slamming into the rear of a vehicle they are following. Quick lane changes can lead to the truck rolling over if the driver doesn't take care with operating the truck.
Trucks are tall
The height of tractor-trailers is also problematic. They are very unstable vehicles compared to passenger cars and vans. Most tractor-trailers are 13.5 feet tall. For this reason alone, when there are high winds forecasted, many bridges and major highways in New Jersey place a ban on trucks until the winds subside. Driving one of these trucks over a bridge during windy conditions can cause it to tip over, landing on other vehicles near it or even blowing it off the bridge into the water below.
Trucks of this height must be loaded properly at all times. An uneven load can cause the truck to tip over when it makes a turn. Because of their height, trucks might not be able to make clear passages underneath bridges and overpasses. Truck drivers must read clearance signs well in advance and find a new route if their truck will not fit. If they ignore the signs they could wind up causing serious damage to the bridge and to the truck.
Wide turns pose risks to passenger vehicles
Trucks are known for the wide turns they make, especially when turning right at an intersection. A truck driver who doesn't look at the makeup of the intersection and the traffic before making a wide turn can wind up jackknifing the truck, striking another vehicle, hitting a pedestrian, or pulling down wires or traffic lights.
Trucks take longer to accelerate and slow down
Since trucks are so long and heavy they take longer to accelerate compared to smaller vehicles. They also take longer to stop. A truck, no matter its size, will take longer to overtake and pass another vehicle than a smaller vehicle. Because of this, many drivers might misjudge how much they have to slow down before approaching an intersection where a truck might be stopped or might be accelerating out of a complete stop, leading to a serious collision.
18-wheelers have a much bigger risk of tire blowouts
Tire blowouts are a common occurrence on New Jersey highways. You've more than likely been riding on the NJ Turnpike, Garden State Parkway, 295, the Atlantic City Expressway, or another highway and have passed a tire torn apart on the side of the road. Tire blowouts happen more often to trucks than to smaller vehicles. The blowouts are caused by the pressure in the tires, the large loads transported by the trucks, and the long hours on the road. Tire debris from a truck can be deadly. The truck driver might also lose control of the truck, crashing it into other vehicles while trying to get control of the direction it is traveling.
Have you been injured in a wreck with a tractor-trailer or other commercial vehicle? The experienced New Jersey truck accident attorneys at Eichen Crutchlow Zaslow, LLP, can investigate your case and help you recover the compensation you deserve for your injuries. Call our office at 732-777-0100, or complete the contact form on our website to schedule a free consultation with a member of our team. We have offices in Edison, Red Bank, and Toms River to better serve you.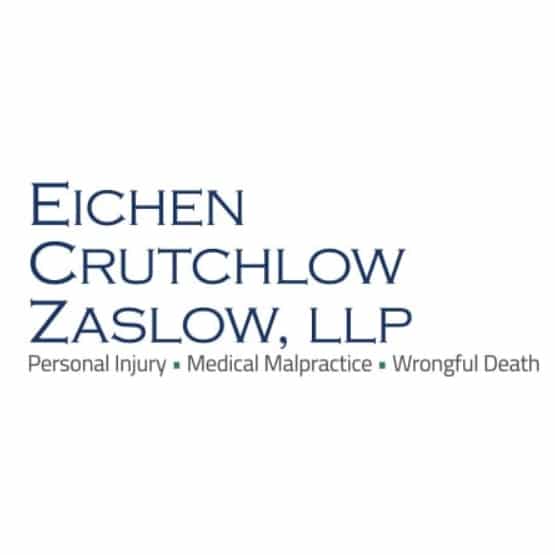 Eichen Crutchlow Zaslow, LLP has purposely remained small in size, because it is important to us that we get to know our clients and their needs. Larger NJ injury firms may churn out case after case, but that's not how we operate. Partners Barry Eichen, William Crutchlow, and Daryl Zaslow have created a firm with the resources to handle complex litigation, and a team that takes your case personally.
Find out more about Eichen Crutchlow Zaslow, LLP