The Statistics on Wrong-Way Crashes Are Going in the Wrong Direction
It seems simple enough: When operating a vehicle, be sure to drive it in the correct direction on roads and highways. Turns out that's not quite as easy as one would expect – at least not for all drivers. Wrong way crashes are on the rise in the United States, a concerning trend that puts everyone on the road at risk of serious injury or even death.
The AAA Foundation for Traffic Safety analyzed the data on motor vehicle crashes involving wrong-way drivers and determined that wrong-way crashes were responsible for more than 2,000 deaths on divided highways between 2015 and 2018. That averages out to approximately 500 deaths per year on U.S. highways, an increase of 34% from the average 375 deaths per year from 2010 to 2014.
New Jersey's roadways are not excluded from these statistics. According to the study, 56 people died in wrong-way crashes on New Jersey roadways from 2010 to 2018, for an average of 6.2 deaths per year. It should not come as much of a surprise that New Jerseyans are at risk of being hurt or killed in a wrong-way crash. Afterall, major highways such as the Garden State Parkway, New Jersey Turnpike, Route 287, Route 202, Route 1, Route 9, and more crisscross the state, and there are more than six million licensed drivers in NJ.
Although these statistics are not surprising, they certainly are alarming. In fact, 2021 got off to a tragic start when two individuals died in a wrong-way crash on the Garden State Parkway in the early hours of January 1, 2021.
If you or a loved one were involved in a wrong-way crash that was caused by someone else and resulted in serious injuries or claimed the life of someone you love, you should speak with an experienced NJ car accident lawyer.
What exactly is a wrong-way crash?
A wrong-way crash occurs when a driver mistakenly drives in the wrong direction into oncoming traffic. This may involve a driver misreading a road sign and using an exit ramp to enter a highway, or it can be the result of something as simple as a momentary lapse of attention that causes the driver to cross over into the lane carrying traffic in the opposite direction.
While most wrong-way accidents occur on highways, they can take place on any type of roadway. This includes one-way streets.
What are the most common causes of wrong-way crashes?
According to AAA, most wrong-way auto accidents are caused by drivers who fit into one of three categories:
Drivers with increased alcohol impairment. Drivers who get behind the wheel while under the influence of alcohol are the most common cause of wrong-way crashes. These wrong-way drivers are mentally and physically impaired after too many alcoholic beverages and are more likely to cross over the median into oncoming traffic, use an exit ramp to enter a highway, turn into oncoming traffic while at an intersection, drive the wrong way down a one-way street, or make any number of other potentially deadly errors that send them speeding toward innocent victims. Drunk drivers are also more likely to pass out behind the wheel or lose control of their vehicle, two scenarios that can cause a wrong-way crash.
Older drivers. As we age, our eyesight worsens and our reaction time tends to slow. This is natural and happens to everyone eventually, but it is truly a cause for concern when driving. An older driver may struggle to see road signs – especially if driving at night or before the sun is full up in the morning – and may be unable to react quickly enough to correct if he or she accidentally crosses the median or makes another error while driving. Additionally, older drivers who may be in the early stages of undiagnosed dementia may still drive regularly but may become confused and make a mistake that causes a serious wrong-way crash.
Solo drivers. Under some circumstances, driving with a passenger is thought to increase the risk of being involved in an accident because the driver may get caught up in conversation or be otherwise distracted by their passenger. However, driving without passengers increases one's risk of becoming a wrong-way driver. Most wrong-way crashes happen when there is no one else in the car to notice that the driver is heading in the wrong direction, is nodding off behind the wheel, or is too impaired to drive.
In each of these scenarios, driver error is overwhelmingly to blame for causing a wrong-way crash. Either the driver should not have been behind the wheel at all, or they should have paid closer attention to where they were going.
When do most wrong-way crashes happen?
A wrong-way crash can occur at any time, but most wrong-way accidents tend to happen at night. Signs are often more difficult to read after dark, which may lead to confusion regarding the correct direction a driver should be heading. Similarly, nighttime driving may lead to falling asleep behind the wheel, which could cause a driver to cross over the median into oncoming traffic.
Wrong-way accidents are also more likely to take place on weekends. This may be because people tend to stay out later on weekends than on weeknights, and are more likely to have had a couple of drinks before driving.
On multi-lane highways, wrong-way crashes are more likely to occur in the lanes closest to the median. Vehicles in these lanes are most at risk of driving into oncoming traffic if the driver inadvertently crosses the median and drives in the wrong direction, or being hit by a wrong-way driver.
Are wrong-way crashes always deadly?
Accidents caused by wrong-way drivers are often, although not always, fatal. Wrong-way crashes typically occur head-on – unless one or both drivers have the opportunity to swerve before the crash. Even if a driver is able to avoid a direct, head-on hit, wrong-way crashes frequently cause fatalities or severe injuries to the drivers and passengers in both vehicles.
Even when not fatal, a wrong-way crash can cause serious injuries that leave victims with lifelong medical issues and crippling medical bills. The physical, mental, and emotional suffering these individuals and their loved ones experience as a result of a wrong-way driver can be interminable. If you were injured in a wrong-way crash, or if a loved one died because of a wrong-way driver, the experienced NJ car accident lawyers at Eichen Crutchlow Zaslow, LLP can help. With offices in Edison, Red Bank and Toms River, we fight for personal injury victims throughout New Jersey. We are certified trial attorneys who know how to build and argue a case, and we do not give up until our clients are satisfied. Give us a call at 732-777-0100 or complete our contact form today to schedule a consultation with an attorney.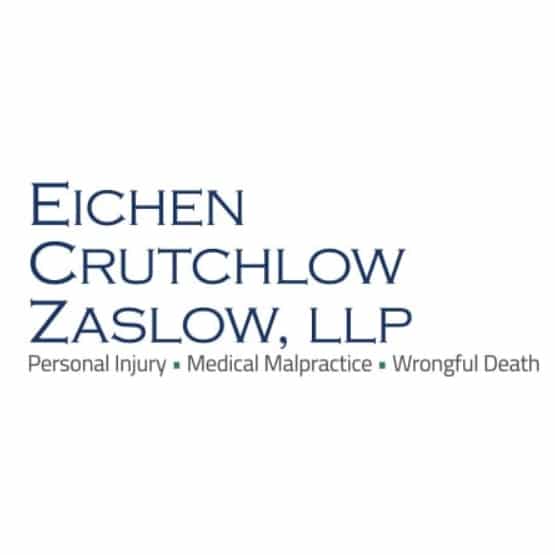 Eichen Crutchlow Zaslow, LLP has purposely remained small in size, because it is important to us that we get to know our clients and their needs. Larger NJ injury firms may churn out case after case, but that's not how we operate. Partners Barry Eichen, William Crutchlow, and Daryl Zaslow have created a firm with the resources to handle complex litigation, and a team that takes your case personally.
Find out more about Eichen Crutchlow Zaslow, LLP