NJ Toll Roads and the Dangers of Toll Booth Plazas
New Jersey is one of the most populated and most traveled states in the country, with several major highways connecting residents and travelers with other parts of the country. With so many major highways, toll revenue is vital to New Jersey's budget; in 2020, the state reported almost $1.4 billion in revenue from tolls, with the majority of income coming from the New Jersey Turnpike and the Garden State Parkway.
The state has over 80 toll booths, with at least 60 of them on major multi-laned highways. With these numbers, it should come as no surprise that New Jersey has a high number of car accidents in and around toll booths – according to Insurance Journal, in 2006 38% of all car crashes on state toll roads involved toll booths – and yet, the dangers of toll booths are rarely researched or discussed.
Why are toll booths so dangerous?
Toll booth plazas, especially on major multi-lane highways like the New Jersey Turnpike, Garden State Parkway, or interstate bridges, are notoriously dangerous for cars. There are several reasons these toll booth plazas (and the lanes leading up to them) are so dangerous, including:
Confused drivers who are not sure in what lane they belong, especially with the addition of electronic payment specific booths, causing them to quickly need to switch lanes as they approach the plaza
Distracted drivers trying to read signs, pull out cash from pockets or car storage compartments, and switch lanes all at the same time
Impatient drivers who may not slow down enough to go through the tolls, or who switch lanes at the last minute to find a shorter line
Insurance Journal reports Mohamed Abdel-Aty, a researcher at Central Florida University, determined through studying the Orlando-Orange County Expressway system in Florida, that the ramps leading up to the actual toll booth plaza had more car accidents than the plaza itself, likely due to drivers still traveling at higher speeds while on the ramps. He also found that the addition of electronic payment booths increased accident rates due to the confusion of drivers not knowing where to go, especially drivers unfamiliar with the toll plaza. He recommended highways install separate electronic payment lanes that would allow cars to maintain a higher speed while passing under the electronic payment reader, and that the signs for these lanes be clearly marked well in advance of the toll plaza.
In 2006, the National Transportation Safety Board (NTSB) came to the same conclusion, and tasked the International Bridge, Tunnel and Turnpike Association (IBTTA) with developing a nationally recommended strategy for adjustments that could be made to toll roads in order to increase driver safety. The report was published in 2007, and while many toll roads have followed the recommendations, there has not been enough research into toll roads in the years since then to determine the effectiveness of the report.
What happens if I'm in a car accident at or approaching a toll plaza?
Many toll booth accidents involve rear-end collisions, high-speed collisions due to sudden lane changes, or property damage if the collision involves a toll booth or a physical lane barrier. Accidents of this nature often lead to both property damage and personal injury, and typically result in emergency calls for first responder help. The legal repercussions of accidents in and around toll booth plazas can get extremely complicated, though.
Depending on where the collision occurred, several different legal authorities may be involved – this might include the New Jersey State Police, local city/county/municipality police forces, or Port Authority Police if the toll booth is by a bridge.  If damages are due to another driver's negligence or because of unsafe road conditions, compensation may be due either through insurance companies, state claims, or both.
How to safely navigate a toll booth
Whether you are approaching a toll booth with a toll taker, or you are using an EZ–Pass express lane, you should always adhere to the posted speed limit. The posted speed limit at a toll plaza is not a suggestion. It is there for your safety and the safety of the toll takers.
If you are approaching a toll booth with a toll taker or exact change bucket, remain in that lane through the toll plaza. Do not attempt to change lanes at the last second because of a shorter line. This can cause an accident with other vehicles where you are pushed into the toll booth, leading to serious injuries and even death.
An experienced lawyer is key
Clearly, pursuing legal action for a car accident at or near a toll booth plaza can become complicated extremely quickly. Because the details of every toll booth plaza accident will be specific – where exactly was the collision, was it due to driver error or distraction, was it due to complicated road conditions – the details of every legal case will be specific. A driver who has been affected by a toll booth plaza collision will want to have the assistance of an experienced lawyer who knows the laws and the courts inside and out.
A lawyer will be able to help with researching the case, including what caused the collision and who is at fault, and determine exactly where monetary compensation for damages or injuries should be pursued. Of course, insurance companies and government agencies are experts in coming to their own defense, so a driver affected by a toll booth plaza collision will need a lawyer to be an expert for them.
Were you or a loved one injured in a New Jersey car accident at a toll booth? Toll booths are more dangerous than one might think because of the traffic volume and reduced speed limits. Call the office of Eichen Crutchlow Zaslow, LLP, at 732-777-0100, or submit our contact form to schedule an appointment with an experienced and compassionate personal injury attorney today. We serve clients out of our offices in Edison, Red Bank, and Toms River.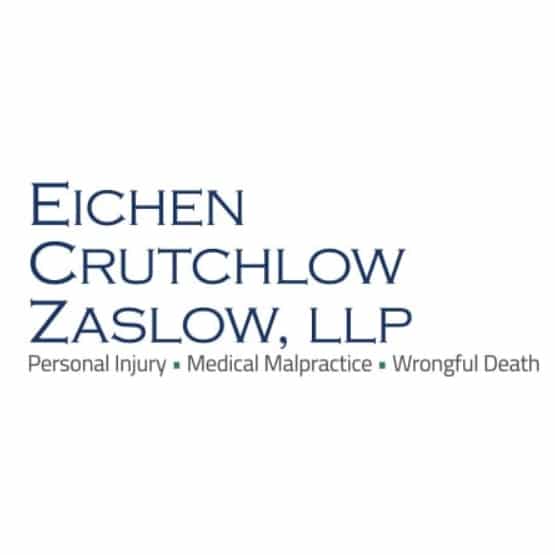 Eichen Crutchlow Zaslow, LLP has purposely remained small in size, because it is important to us that we get to know our clients and their needs. Larger NJ injury firms may churn out case after case, but that's not how we operate. Partners Barry Eichen, William Crutchlow, and Daryl Zaslow have created a firm with the resources to handle complex litigation, and a team that takes your case personally.
Find out more about Eichen Crutchlow Zaslow, LLP