New Jersey Medical Malpractice Lawyers Review Statute of Limitations for New Jersey Medical Malpractice Lawsuits
Medical malpractice can result in catastrophic personal injuries that are immediately obvious and devastating. Sometimes, however, consequences of medical malpractice remain hidden for months or even years.  When it becomes clear to you that your physician, surgeon or other healthcare provider has injured you or a family member as a result of physician negligence, misdiagnosis or failure to diagnose, the clock begins to tick on the period of time you have to file a claim to recover just compensation for your injuries. The time-frame within which a medical malpractice claim must be brought is governed by New Jersey's Statute of Limitations, N.J.S.A 2A:14-2.
New Jersey's "Two Year" Rule for Medical Malpractice Claims
In New Jersey, the general rule is that any personal injury lawsuit, including a medical malpractice action, must be filed within two years of the date the "cause of action" accrued.  The cause of action does not accrue until the injured party becomes reasonably aware of the existence of the injury, or that the injury is the result of the negligence of another party.  Therefore, if the injury is immediately obvious, the injured party must file a medical malpractice claim within two years; however, if the injury is not obvious, the clock on the two year limitation does not start until the injury is detected or should have been detected under reasonable circumstances. If the malpractice injury results in death, the wrongful death claim must be filed within two years from the date of death.
Exceptions for Injuries to Children & Birth Injuries
There are exceptions to New Jersey's general "two year" rule with regard to children injured by medical malpractice.  For minors, a medical malpractice claim must be brought within two years of the injured child's 18th birthday, unless the injury occurred at birth.  If a child sustained an obvious birth injury as the result of the medical malpractice, a medical malpractice lawsuit must be filed by the child's 13th birthday. For minors, the statute of limitations applies to wrongful death actions and a claim must be filed within two years of the child's death resulting from the physician's negligence.
Call New Jersey Medical Malpractice Lawyers of Eichen Crutchlow Zaslow, LLP
Medical malpractice claims are factually complex and procedurally complicated.  When you or a family member has been injured by the negligence of a physician or other healthcare provider, you need the assistance of a New Jersey medical malpractice lawyer who has the knowledge and resources to sort through the medical facts of your situation and develop a case that will properly and adequately address your injuries and the obtain the best possible recovery on your behalf.  New Jersey medical malpractice lawyers of Eichen Crutchlow Zaslow, LLP., possess the knowledge to navigate through the procedural issues that arise in a medical malpractice claim, such as the running of the Statute of Limitations, contributory or comparative negligence issues, and questions of joint and several liability.  Contact New Jersey medical malpractice lawyers today to discuss your potential claim and how our medical malpractice attorneys can assist you in obtaining the recovery you deserve to compensate you for your injuries. Call 732-777-0100 or fill out the online contact form to make an appointment for a free consultation.
Related Articles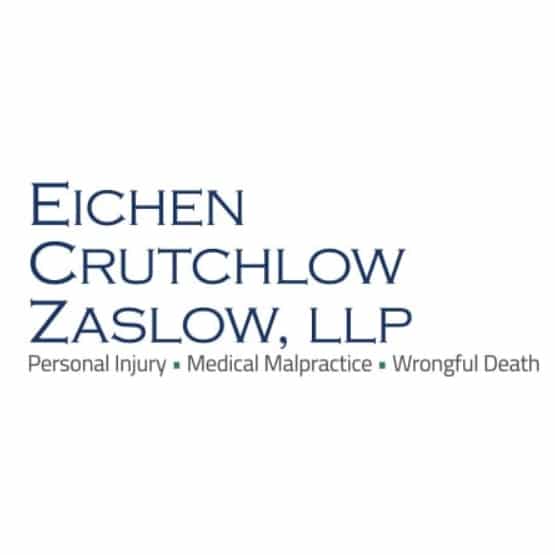 Eichen Crutchlow Zaslow, LLP has purposely remained small in size, because it is important to us that we get to know our clients and their needs. Larger NJ injury firms may churn out case after case, but that's not how we operate. Partners Barry Eichen, William Crutchlow, and Daryl Zaslow have created a firm with the resources to handle complex litigation, and a team that takes your case personally.
Find out more about Eichen Crutchlow Zaslow, LLP