Why So Many New Jersey Car Crashes Are Fatal
New Jersey has many dangerous high-speed roads. The New Jersey Turnpike is one of the most heavily traveled roads in America. The Turnpike transports people up and down the East Coast including from New York City to Delaware. The Garden State Parkway and the Atlantic City Expressway carry people throughout New Jersey including the Jersey shore. Many major and minor roads have bumper to bumper traffic during rush hour, all at high speeds, which means one moment's lapse in judgment can be fatal.
According to the New Jersey State Police, 326 people died in New Jersey roads through August 24, 2020: 19 in Monmouth County, 15 in Ocean County, and 41 in Middlesex County.
What are the major causes of wrongful death car crashes?
Sadly, the causes of fatal car accidents are very-well known, In virtually all cases, the accidents could have been avoided if the driver acted reasonably. The major reasons deaths on New Jersey's roads occur are:
Drunk driving. According to the New Jersey Chapter of Mothers against Drunk Driving: One person, nationwide, dies due to drunk driving every 51 minutes. There are 300,000 drunk driving incidents nationwide every year. Drunk drivers swerve, speed, and fail to respond to dangers. Defensive drivers can't warn or avoid drunk drivers because drunk drivers don't know what they're doing.
Driving while distracted. Distracted drivers don't have their hands on the steering wheel, their minds on traffic, and their eyes on the road. Just one second – texting while driving, talking on a smartphone, reaching for a cup of coffee, or grooming one's hair – can cause a fatality.
Speeding and other traffic violations. The faster a driver travels, the less time the driver has to respond to emergencies. The faster a driver goes, the more forceful and deadly a collision is likely to be.
Other common causes of fatal accidents include:
Improper merging
Bad weather
Poorly maintained roads
Defective automobiles and defective auto parts such as faulty tires, brakes, airbags, or steering systems, also cause numerous fatal car accidents.
Filing a wrongful death claim for a fatal car accident in NJ
When someone dies due to a car accident, the family may be able to file a wrongful death claim, in conjunction with a survival action, to collect damages from the negligent party.  The people who are entitled to benefits due to a wrongful death are:
The surviving spouse and children or grandchildren
The parents of the deceased victim in some cases
In some cases, the surviving siblings, nieces, and nephews may be entitled to benefits – if there is no spouse, children, or living parent.
Dependents of the deceased may also be entitled to benefits
Wrongful death benefits include:
The loss of financial support the deceased would have provided the family members
The loss of the decedents' care, comfort, companionship and guidance
The loss of value of household tasks – such as childcare and cleaning
The funeral and burial expenses
Any medical bills due to the fatality
At Eichen Crutchlow Zaslow, LLP, our New Jersey car accident lawyers move quickly after any fatal accident to investigate the cause of the accident, review the accident site, and speak with witnesses, including the police. We demand full compensation for the economic and emotional losses the death has caused. If a loved one died in a car crash, please call 732-777-0100 or use our contact form to schedule an appointment. We maintain offices in Edison, Toms River and Red Bank, and serve clients throughout New Jersey.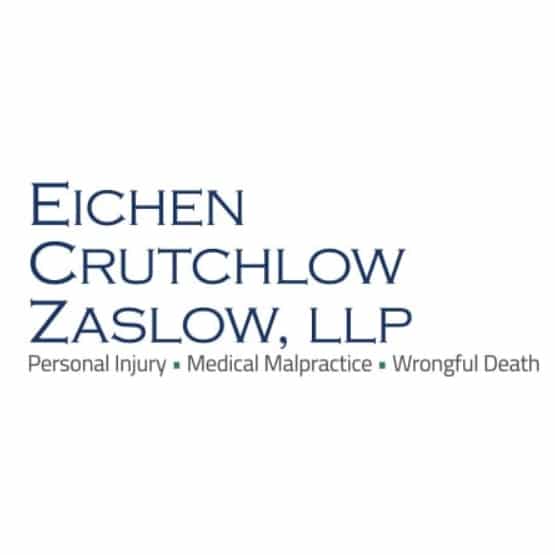 Eichen Crutchlow Zaslow, LLP has purposely remained small in size, because it is important to us that we get to know our clients and their needs. Larger NJ injury firms may churn out case after case, but that's not how we operate. Partners Barry Eichen, William Crutchlow, and Daryl Zaslow have created a firm with the resources to handle complex litigation, and a team that takes your case personally.
Find out more about Eichen Crutchlow Zaslow, LLP