The Dangers of Road Rage Car Accidents in New Jersey
New Jersey has long had a reputation for being a terrible place to drive. Between the jughandles, the ever-changing speed limits, the state's inability to open more than one "cash only" lane on the Parkway, and the bumper-to-bumper Shore traffic for four months out of the year, it takes a certain type of driver to make their way through the Garden State. The reputation of "Jersey drivers" has even been immortalized in the Urban Dictionary. (For the record, we believe the definition is wrong.)
But there are times when our tempers get the best of us, and that creates a danger for everyone. A simple misunderstanding turned serious when three drivers were involved in a road rage incident toward the right lane of the New Jersey Turnpike. Around a quarter to 9 p.m., two drivers in a gray and white SUV boxed the driver of a tractor-trailer in the right lane around the 96.2 milepost in Carteret. After both of the vehicles stopped, the drivers then exited their vehicles and began to assault the truck driver. After the assault ended, the two drivers returned to their vehicles and fled the scene before the state troopers arrived. The truck driver suffered minor injuries from the assault. Authorities are encouraging any parties who witnessed the incident to come forward.
Road rage incidents are increasing across the country
While many drivers can relate to the frustration that incites road rage, these types of incidents can become deadly. The National Highway Traffic Safety Administration (NHTSA) reports that road rage has been the catalyst for 300 deaths since 2013. According to the American Psychological Association (APA), there are 30 murders a year that are associated with road rage. Road rage incidents have the ability to become dangerous due to the anger of one or both of the drivers involved.
New Jersey is not alone. Road rage is increasing everywhere, especially during the pandemic. Research done by Pew Trusts found that "road rage altercations already were a problem before the COVID-19 pandemic struck. But in some areas, police say they've seen incidents spike during the past year and a half, as people have become more stressed and tensions have flared more easily."
We know that driving can be frustrating, but it's dangerous enough without added threats of violence. You should know what it looks like so you can take steps to protect yourself if faced with a dangerous driver.
What actions influence road rage?
A dangerous driving behavior that plays a significant role in road rage is aggressive driving. Aggressive driving is any unsafe driving action that is performed intentionally with malicious intention or little regard for the safety of other drivers.
Some examples of aggressive driving include the following:
Tailgating (following too close behind another vehicle)
Speeding
Changing lanes without using the proper signals
Blocking vehicles that are attempting to change lanes or pass
In some cases, even using brakes or headlights to "punish" other drivers can be viewed as aggressive driving.
Other factors that influence road rage are traffic delays, distracted drivers, and disregard for other drivers and the rules of the road. There are many elements of traffic congestion that cause drivers to become impatient, like waiting for other drivers to merge into oncoming traffic or waiting at stop lights for a certain amount of time.
Drivers can also become aggressive and impatient if they are running late for an appointment. Anonymity can also influence drivers to engage in aggressive driving actions if they believe that they will not see the other driver again. This feeling may influence the driver to engage in actions that he or she would not engage in with friends or associates, like yelling or making offensive gestures.
Who is liable for road rage-related injuries in NJ?
Victims of assault or other attacks during car accidents have the option of filing personal injury lawsuits, particularly if the assault or battery incident resulted in serious injuries. If the victim of a road rage incident can prove that the actions of the other party caused the accident to occur and led to the victim's injuries, the other party can be responsible for compensation and reimbursement of medical expenses for the victim.
What damages can be awarded to the victim of a road rage car accident?
Some of the damages that victims of road rage car accidents are entitled to are lost wages, compensation for medical expenses, and pain and suffering. The severity of the accident can affect a victim's ability to work, perform everyday tasks, and even take time away from the victim's family due to recovery. Victims can also experience significant emotional pain from the accident that can result in serious medical conditions like post-traumatic stress disorder (PTSD) and anxiety. If you were attacked by an angry driver, you have legal options.
What should I do if I'm being terrorized on the road?
The safest thing you can do if you are being terrorized by another driver is get out of the way. If you can move to the right lane, do it. If you can exit the road, do it. If you exit the road and the car follows you, drive toward a local police station or a hospital – both places where there will be an authority figure to help you. You can make a police report, too, if you get the license plate number or capture video of the incident. If you are physically attacked (in the car or out of it), you will definitely want the police report for your civil claim, regardless of what happens with potential criminal charges.
What you DON'T want to do is retaliate. Don't act aggressively back. De-escalate as best you can. Two wrongs don't make a right, and you could hurt your case if you respond in kind.
The New Jersey accident lawyers at Eichen Crutchlow Zaslow, LLP have the knowledge and experience to handle all types of accidents that occur on the New Jersey Turnpike, including those involving accidents caused by road rage. With offices conveniently located in Edison, Red Bank, and Toms River, we help accident victims throughout New Jersey. Call us today at 732-777-0100, or complete our contact form for a free consultation with a New Jersey car accident lawyer.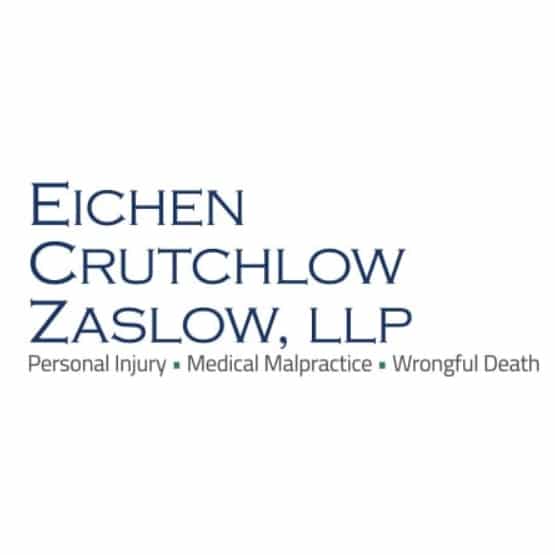 Eichen Crutchlow Zaslow, LLP has purposely remained small in size, because it is important to us that we get to know our clients and their needs. Larger NJ injury firms may churn out case after case, but that's not how we operate. Partners Barry Eichen, William Crutchlow, and Daryl Zaslow have created a firm with the resources to handle complex litigation, and a team that takes your case personally.
Find out more about Eichen Crutchlow Zaslow, LLP