Getting Hit in a New Jersey Traffic Circle
To assist with the flow of traffic, many road planners incorporate the use of roundabouts – those notorious multi-entry intersections so many of us know as "traffic circles." Roundabouts help regulate the flow of traffic by having drivers travel in a counterclockwise direction before exiting the circle. The Federal Highway Administration (FHWA) reports that one of the main benefits of roundabouts is to reduce the amount of traffic accidents.
Unfortunately, car accidents can still happen within a traffic circle if drivers are confused about the direction of traffic or drive carelessly. Negligent drivers can be held liable for accidents in a roundabout that cause you injury or harm.
What are the common causes of traffic circle collisions?
The FHWA's data shows that traffic circles really do make roads safer, but that doesn't make driving through one feel less harrowing. Most roundabout accidents in NJ are the result of driver ignorance of the navigation rules, or acts of negligence. That can include:
Failure to yield. One of the common causes of a traffic circle accident is the failure to yield. Prior to entering a roundabout, drivers must yield to the drivers who are currently in the traffic circle. Drivers must also yield the right of way to any pedestrians who are in the process of crossing the street in a roundabout. When drivers fail to yield the right of way to either of these groups, a crash is bound to happen.
Stop and go traffic. Another common cause of roundabout accidents is hitting the brakes and stopping while inside the traffic circle. When drivers enter a roundabout, the traffic is supposed to continuously move. Vehicles are not supposed to stop or brake suddenly; vehicles who stop inside the circle are at risk of being struck behind by another vehicle.
Speeding. If you have ever white-knuckled it through a traffic circle, you are not alone. We have seen countless drivers send up a prayer and then gun it through the circle, in the hopes of making it out the other end. All drivers entering roundabouts must reduce their speed when approaching and when navigating through them. Speeding drivers are far more likely to hit another car, pedestrian, or cyclist.
Failing to use the proper lane. One negligent action that can lead to a roundabout accident is when drivers fail to use the proper lane. There are traffic signs to help guide drivers in the right direction, and failing to follow them can cause an accident. Many roundabouts contain more than one lane, and drivers must pay attention to the correct lane to use to exit safely. Unfortunately, many drivers are often confused or engage in aggressive driving and fail to follow the necessary instructions to merge into the correct lane. Failure to follow these instructions can result in a traffic accident.
What are common traffic accidents that occur inside roundabouts?
Sideswipe accidents occur when drivers within the roundabout fail to accurately judge the curve of the circle and collide with another vehicle in another lane.
Rear-end accidents are one of the most common types of collisions that happen within a roundabout, and can be the result of stop-and-go traffic, driver distraction, or aggressive driving.
Head-on collisions are among the deadliest accidents in any driving scenario. They can be the result of speeding, driver confusion, or entrance/exit confusion.
Multi-car collisions involve three or more cars. These kinds of chain reaction accidents are common in busy intersections, including roundabouts.
Central island accidents happen when a driver is traveling within the roundabout and a second vehicle attempts to exit, unaware of what lane they are supposed to travel in. The first driver attempts to avoid the second driver by swerving into the central island – that bit of land in the middle of the circle.
Entering/exiting accidents usually happen in two ways: a driver makes an error or acts negligently while entering the circle, or a driver in an inner lane attempts to cut across all the traffic in order to get out of the circle.
Who can be held liable for car accidents in traffic circles?
There can be multiple liable parties in a NJ traffic circle accident:
The driver who hit you
A negligent pedestrian or cyclist
A trucking company which failed to supervise and/or train its drivers
The municipality which designed the circle
A construction crew doing work in or near the circle
In some cases, multiple drivers can be liable. For example, if Car A is swerving and speeding, and Car B tries to get out of the way and crashes into Car C, then Car A and Car B might share liability.
Why you want a NJ car accident attorney for help with a roundabout collision claim
Determining liability for a traffic circle accident is a critical component of your personal injury case. It can also be the most challenging. There are three reasons why you want a car accident lawyer on your side.
First, drivers within the circle have right of way, so if you were the driver entering or exiting the circle, law enforcement may assume you were to blame. But as we all know, that is not a hard and fast rule. If the police report casts the blame on you because you were the entering driver, having a lawyer to set the record straight is helpful.
Second, roundabout car accidents usually involve multiple parties. When there are multiple parties, there are multiple insurance companies all pointing the finger at other people, because none of them want to pay. Our NJ car accident attorneys will deal with the insurance companies on your behalf.
Third, we know how to review evidence to show how the accident occurred. We look at black box data (when applicable) and phone data, any surveillance video, and the point of impact on your vehicle. We'll look at tire tracks on the road, and the trajectory of your car once it was hit. We talk to witnesses and take depositions. We also work with your doctors and your employers so we can get an accurate depiction of what your life was like before the accident. This is important because a jury must understand the true extent of your injuries.
Traffic circles are supposed to reduce traffic accidents, but they cannot prevent them entirely. Eichen Crutchlow Zaslow is recognized as a leading New Jersey personal injury law firm. If you were injured in a roundabout accident, call us in Edison, Toms River, or Red Bank at 732-777-0100, or complete our contact form to arrange a free consultation.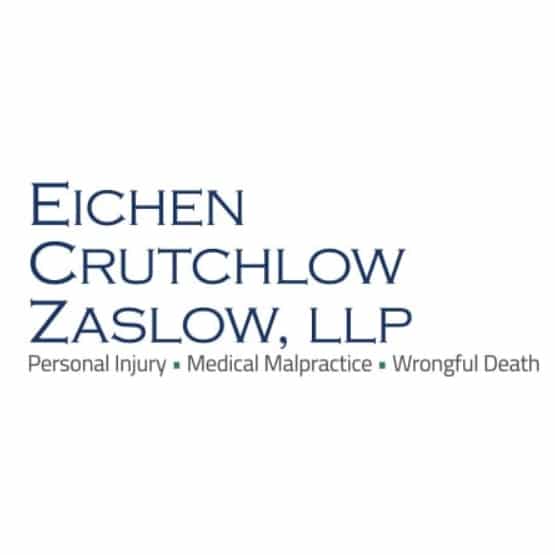 Eichen Crutchlow Zaslow, LLP has purposely remained small in size, because it is important to us that we get to know our clients and their needs. Larger NJ injury firms may churn out case after case, but that's not how we operate. Partners Barry Eichen, William Crutchlow, and Daryl Zaslow have created a firm with the resources to handle complex litigation, and a team that takes your case personally.
Find out more about Eichen Crutchlow Zaslow, LLP