Megabus Rollover Accident on NJ Turnpike Leaves 1 Dead, Multiple Injured
Just before 7:00pm on Tuesday, a Megabus collided with a Ford F-150 pick-up truck on the NJ Turnpike, right at the Thomas Edison Service Area entrance ramp. The bus was traveling from New York to Philly. The impact was strong enough to overturn the double-decker bus. As of now, one person has died and five more are seriously injured, per ABC 7 News. The bus driver is among the injured, though no one in the pick-up was hurt.
All of us at Eichen Crutchlow Zaslow, LLP hope the injured make a full recovery. As attorneys who have represented victims of bus accidents, we know that these types of crashes can be devastating to both the victims and their families. Our law firm handled the wrongful death case on behalf of The Estate James McNair in the infamous Tracy Morgan v. Walmart case. That crash occurred near to where the Megabus crash occurred.
What caused the deadly Megabus crash on the NJ Turnpike?
At this time, the cause of the fatal accident is not yet known, though ABC 7 points out that there were thunderstorms in the area last night. It could be attributed to the weather, or to driver error, or to any number of issues.
There were 60 fatal accidents on toll roads in 2020; 25 of them were Turnpike accidents. Every year, it seems, there are catastrophic and/or deadly crashes on the NJ Turnpike; it is second only to the Parkway in terms of dangers. Eighteen people were injured in a bus accident in 2019, when an Alliance bus overturned on the Turnpike. In 2018, more than a dozen people were hurt in a bus/tractor-trailer crash on the Turnpike in Hamilton Township. It is, sadly, a common occurrence on this particular stretch of roadway.
However, there was a Megabus rollover crash on I-95 (in Maryland, not New Jersey) in May, leading us to believe that such occurrences may be even more likely when you're riding a Megabus.
Why a Megabus accident is so dangerous
The biggest concern in any NJ bus accident is the potential reach of the damage. A typical NJ Transit bus seats about 50 people (though the articulated ones seat up to 100). However, a Megabus can carry around 70 passengers, all of whom are at risk of injury in the event of a collision.
Furthermore, Megabuses are double-decker buses. While double-deckers are designed differently to reduce the risk of tipping, when they do roll over, the people seated up top face additional risks. The top frame of the bus is very light compared to the bottom of the vehicle, and may offer less protection than a typical city bus would in the event of a rollover.
Who is liable in a Megabus accident in New Jersey?
In any bus accident in New Jersey, there could be multiple liable parties. They often include:
The driver of the bus
The bus company
Another driver on the road
The manufacturer of the bus parts
A local government agency (in cases of road defects)
Certain buses, like NJ Transit buses, are owned and operated by New Jersey. Megabus, like Greyhound or Academy, are privately owned.
Most buses are considered common carriers – "A person or a commercial enterprise that transports passengers or goods for a fee and establishes that their service is open to the general public." Common carriers owe their passengers a duty of care to protect them from possible harm. That includes a duty to follow traffic laws and keep their fleet in good condition. This duty of care begins the moment riders make their intentions to become passengers clear.
What should I do if I'm injured in a NJ bus accident?
If you or a loved one is injured in a bus accident on the NJ Turnpike or other road, Eichen Crutchlow Zaslow, LLP is here to help. We review the police reports and any witness statements, as well as any available surveillance from the Turnpike, the bus, or the passengers. We also work with your doctors and financial planners to determine the true extent of your injuries, so we can find the trust cost of your losses.
Understand that when you are hurt in a crash involving a large company, like Megabus, they will have an army of lawyers at their disposal. These attorneys have one goal in mind: to avoid liability for the accident. That is why, if you are injured or if your loved one was killed in a Megabus crash, you deserve to have a team who will fight back for you. We've secured more than $1 billion in verdicts and settlements for clients throughout the state; let us help you, too.
Eichen Crutchlow Zaslow, LLP is your advocate when you are injured. To schedule a free consultation with a NJ bus accident attorney, please call us at 732-777-0100, or fill out our contact form. We maintain offices in Edison, Red Bank, and Toms River, and serve clients throughout New Jersey.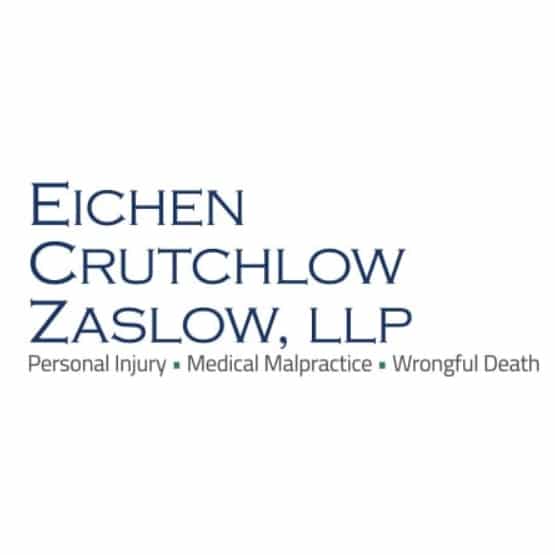 Eichen Crutchlow Zaslow, LLP has purposely remained small in size, because it is important to us that we get to know our clients and their needs. Larger NJ injury firms may churn out case after case, but that's not how we operate. Partners Barry Eichen, William Crutchlow, and Daryl Zaslow have created a firm with the resources to handle complex litigation, and a team that takes your case personally.
Find out more about Eichen Crutchlow Zaslow, LLP