From Medical Negligence to IEPs: How a NJ Birth Injury Lawyer Can Help
When your infant suffers a birth injury during the labor and delivery process, much of your experience as a new parent may focus on their healing and recovery. Sometimes, however, parents may not even know their baby suffered a birth injury – or may not understand the extent – until they enroll their child in school. Then, a parent might see them struggle with concepts, learning, or social behavior and realize their child needs extra help and/or an Individualized Education Program ("IEP").
Birth injuries can have life-long consequences, and in the immediate aftermath of trauma, you may not be thinking about school. But the truth is that many public school districts in New Jersey – even the well-funded ones – simply do not have the resources available to help children with conditions like cerebral palsy. That means you may be responsible for paying for additional services, and that can create a significant burden.
So today, we want to talk about birth injuries, the various challenges involved, the educational services that may be available to your child, and how our NJ birth injury lawyers can help you help your child succeed.
Navigate this Page:
Birth injuries and developmental delays or disabilities
A "developmental delay" is a general and umbrella term to describe situations where an infant or child doesn't reach developmental milestones as expected. Yale Medicine explains:
Most children move fairly smoothly through the predictable phases of child development—but some experience difficulties. A baby may have a birth defect that interferes with his development, causing him to progress in fits and starts, meeting some milestones on time and others much later. Some children develop normally for months or even years but then falter, with development slowing down, stopping, and sometimes even going backward.
Although Yale does mention birth defects, birth injuries and premature births ("prematurity") can also cause developmental delays. Some of these delays may present almost immediately, like when your child misses milestones like walking and talking. However, some injuries may not show up until your child enters school and you notice them struggling with concepts like reading and studying. Birth injuries causing trauma to the brain or body can lead to developmental delays later on.
Common birth injuries leading to development delays include:
Undiagnosed/untreated infections during pregnancy can also affect a baby's developing brain and cause issues later in life. Birth injuries caused by negligence are generally considered medical malpractice, so ensure you talk to an experienced New Jersey attorney if you discover or suspect your child's development delay is a result of a birth injury.
If your child is struggling in school due to a developmental delay, New Jersey provides resources in the form of IEPs.
What is an IEP and how does it work?
You may be aware of IEPs already if your child has missed several developmental milestones. However, many parents don't even realize their child has a developmental delay caused by a birth injury until the child is well into their schooling. This is not a statement on your parenting – often, children don't begin to struggle until they reach a certain age or milestone in their development. And, many children simply learn to adapt until they can't anymore. Verywell Family points out:
Maybe your child has always had trouble with reading or math. Maybe they always had problems completing assignments or staying on task, and it has been getting worse as the years pass and the grade-level work becomes more difficult.
Sometimes disabilities become more obvious when the school work increases in difficulty in higher grade levels. If you can look back and see that your child has always found a particular task or subject challenging, and now it is impossible, you have more cause to suspect a disability.
An IEP is required for every child receiving special education services, under the Individuals with Disabilities Education Act (IDEA). To be eligible for an IEP, your child must a) have one of 13 disabilities listed in the IDEA, and b) been evaluated and identified as needing accommodations to properly learn the school curriculum. These 13 conditions are:
Autism
Combination hearing and visual impairments
Deafness
Emotional disturbance
Hearing impairment
Intellectual disability
Multiple disabilities
Orthopedic impairment
Other health impairment
Specific learning disability
Speech or language impairment
Traumatic brain injury
Visual impairment
Just having one of these conditions doesn't automatically qualify a child for an IEP – experts must demonstrate that the child can't keep up with regular classroom learning without extra assistance. Generally, the school evaluates your child through observation; this team could include teachers, counselors, you as a parent, and even your child's doctors. The team may also look at the student's schoolwork over the years to determine when their challenges began.
Can I request my child be evaluated for an IEP?
Remember – as a parent, you always have the right to request your child be evaluated for an IEP. Verywell Family also notes:
If you think your child has a disability but does not meet one of the thirteen categories, then try looking into a 504 plan. A 504 refers to a piece of federal law — Section 504 — that more broadly defines disability. Section 504 defines disability as a mental or physical impairment that limits one or more life activities, or has a history of an impairment, or is regarded as having an impairment.
There is always a possibility, though, that your school cannot provide all of the right accommodations for your child, even though he or she is guaranteed the right to those accommodations. That could mean your child needs to be bused to a different district (which you may have to pay for) or needs private tutors (which you WILL have to pay for). If your child requires a certain level of physical therapy each day, the school nurse may not be able to administer that therapy. That could mean a specially trained aide for your child, which your school may or may not be able to provide. All of this costs money – and we don't believe you should be forced into an untenable position when your child's developmental delay is the result of a preventable birth injury.
The experienced and compassionate attorneys at Eichen Crutchlow Zaslow want to help your family. We handle birth injury and medical malpractice cases throughout New Jersey, and know that you want only the best for your child. Let us protect your rights. Call our offices today at 732-777-0100, or fill out our contact form to schedule a free consultation. We serve clients throughout the Garden State from our offices in Edison, Red Bank, and Toms River.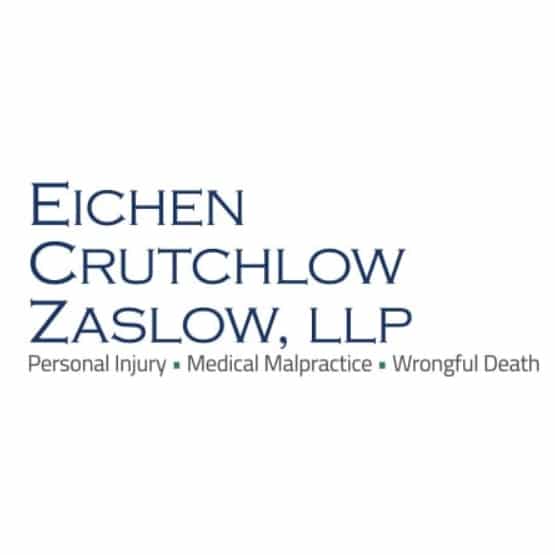 Eichen Crutchlow Zaslow, LLP has purposely remained small in size, because it is important to us that we get to know our clients and their needs. Larger NJ injury firms may churn out case after case, but that's not how we operate. Partners Barry Eichen, William Crutchlow, and Daryl Zaslow have created a firm with the resources to handle complex litigation, and a team that takes your case personally.
Find out more about Eichen Crutchlow Zaslow, LLP