Facebook Makes $90M Deal to Settle Long-Running Lawsuit
Facebook $90M Settlement
In early 2022, Facebook agreed to pay $90 million to finally settle a 10-year-old lawsuit accusing the company of tracking user's online activity, even after they were logged out of the social media program. Eichen Crutchlow Zaslow is proud to note that our own Barry Eichen served as co-lead counsel on the Science Committee for the plaintiffs in this case. Lead counsel for the plaintiffs, David Straite, credits Barry with helping get the case back on track, with "the inspired idea to try a larceny claim, which we rode to the Ninth Circuit and later I got other Judges to agree in other cases (for example, against Google). But the original idea was all Barry's."
Although the deal still requires a judge's approval, the settlement is likely to go through, bringing the long-running suit (involving 124 million plaintiffs) to a close.
About the lawsuit against Facebook
The lawsuit against Facebook began back in 2012:
…when 21 related cases filed in different states were consolidated in California federal court following a dispute between the parties over what the case caption should be. The users sought more than $15 billion in damages and injunctive relief for Facebook's interception of users' internet communications and activity after logging out of their Facebook accounts.
Plaintiffs alleged Facebook of breaking both state and federal privacy and wiretapping laws in these practices by storing user browser histories and compiling them into data to sell to advertisers.
Although the case was initially dismissed by the court in 2017, an appeals court revived it in 2020, even after Facebook's repeated motions to dismiss or arguments they were not liable. Said U.S. District Judge Edward Davila, "New law was made; this case has had serious litigation, both at the trial court level, at the appellate court level, and also an attempt to get to the Supreme Court, and that's not a feat that should go unnoticed."
The settlement will apply to a class of Facebook users across the country "who had active accounts between April 22, 2010, and Sept. 26, 2011, when their internet use was tracked when they weren't logged in." Facebook must also delete all the data collected from users during this period.
An attorney for the plaintiffs, Stephen Grygiel, noted, "We did make new law, both in terms of the economic harm and the privacy harm, and in terms of the party to the communication exception to the Wiretap Act. I don't think it's bragging to say it's changed the shape of privacy rights in law and litigation, and for the better, in a pro plaintiff way."
We are pleased and proud to have helped all the plaintiffs in this case achieve the justice they deserve.
About Barry Eichen, Shareholder in Eichen Crutchlow Zaslow, LLP
Shareholder Barry Eichen is a dedicated and respected trial lawyer, specializing in complex litigation. He has tried over 100 complex cases, securing settlements and verdicts including:
$30M settlement with OSRAM Sylvania for consumer fraud
$19.2M verdict on behalf of a railroad worker diagnosed with pulmonary fibrobris
$10.6M verdict against Ford Motor Company on behalf of an injured plaintiff
$51.M verdict against Johnson & Johnson on behalf of the Commonwealth of PA
Barry devotes 90 percent of his practice to litigation and has been practicing law for nearly four decades.
To find out how the attorneys at Eichen Crutchlow Zaslow can help you, call our office at 732-777-0100, or complete our contact form to arrange a free consultation with an experienced lawyer in Edison, Red Bank, or Toms River. We also offer free home and hospital visits.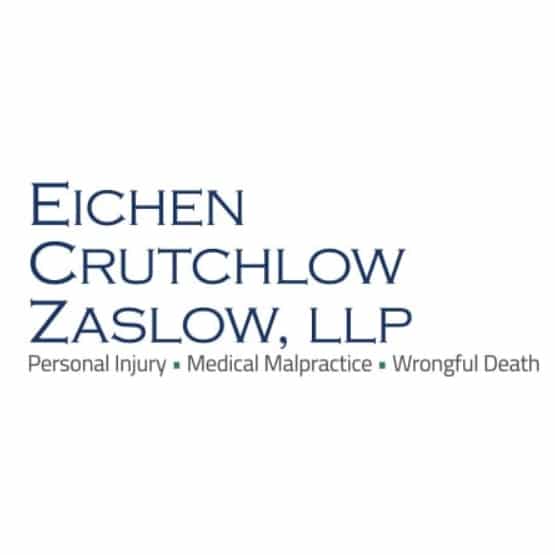 Eichen Crutchlow Zaslow, LLP has purposely remained small in size, because it is important to us that we get to know our clients and their needs. Larger NJ injury firms may churn out case after case, but that's not how we operate. Partners Barry Eichen, William Crutchlow, and Daryl Zaslow have created a firm with the resources to handle complex litigation, and a team that takes your case personally.
Find out more about Eichen Crutchlow Zaslow, LLP