Which Roads Are the Deadliest in New Jersey?
New Jersey is a small state with a population of over 9 million people. With people heading to work, to the doctor's office, to the grocery store, or to the school to drop their kids off, it makes sense that there would be accidents on a daily basis all throughout the state. But there are some roads that seem to be magnets for car accident fatalities. These roads are usually highly traveled and full of intersections and areas of merging, which are typically dangerous types of road conditions.
From 2018 to 2020, New Jersey saw 1,596 fatal accidents. This is the span of time that was analyzed by MoneyGeek in order to determine the deadliest stretches of road in the state. In 2020 alone, there were 550 total accidents, with 587 fatalities. Similar numbers were reported for 2018 and 2019. It shows how fatal car accidents can be, not only to the driver of the vehicle, but to the occupants of the vehicles and the pedestrians around them as well.
The study done by MoneyGeek included 789 roads (out of the state's 85,108 miles of road). These were the ten stretches of roadway deemed the deadliest:
US-40 from West End Avenue to Noah's Road. Proving to be the deadliest road in New Jersey, this stretch of Route 40 between Pleasantville and Atlantic City has seen 11 accidents, all of them fatal with a total of 11 fatalities. With a distance of 3.9 miles, that is 2.8 crashes per mile.
US-322 from Village Parkway to E. Garwood Avenue. Located in Gloucester County, 10 accidents have occurred on this stretch of road with 12 fatalities. Spanning 4.6 miles, that is 2.2 crashes per mile.
I-95 from Exit 74 to the Vince Lombardi Travel Plaza. It may not be surprising to see the I-95 on this list, coming in at 10 accidents and 11 fatalities. That is 2.4 crashes per mile over 4.2 miles.
US-1 from Garden Street to US Highway 22. We're sure no one is surprised that an area laden with trucks and airport traffic ranked pretty high on the list. There were 10 accidents leading to 10 fatalities – about 2.4 fatal crashes per mile.
SR-21 from Miller Street to 4th Avenue. In Newark, we have this stretch of road that has experienced 9 accidents and 10 fatalities over three years. In a short distance of just 2.9 miles, that is 3.1 crashes per mile.
I-80 from Exit 55B to Exit 60. Like many of the other roads on the list, many of the accidents on this road occur at intersections. With 8 accidents and 9 fatalities, this span of the I-80 between Woodland Park and Elmwood Park experienced 2.3 crashes per mile over a distance of 3.4 miles.
SR-27 from Seminary Avenue to Grant Street. This stretch of road includes a small bridge over the Rahway River, which was the site for one of the 8 accidents that totaled 8 fatalities. Bridges are quicker to ice over in the winter, proving to be a hazard due to the slickness. Over 3.3 miles, that is 2.4 crashes per mile.
I-95 from Exit 13 to Exit 14. And I-95 makes its second appearance on the list – again, right near Newark Airport, where the ramps for 1 and 9 and 78 hit. There were 7 fatal accidents, with 8 fatalities. That is a little over one crash per mile over the span of 4.9 miles.
US-9 from Spring Valley Road to Old Mill Road. This stretch of Rt 9 is dangerous for a lot of reasons. You've got Rt 18 traffic trying to exit or merge, there's trucks everywhere, there's a ton of strip malls, and there's no concrete divider between the six lanes of traffic. With 7 crashes occurring over the three year time span, totaling 8 fatalities, that is almost 2 crashes per mile over 4 miles.
SR-27 from La Rose Avenue to S. Adelaide. Finally, we have the SR-27 making its second appearance on the list with 7 accidents and 7 fatalities. In total, that's 15 accidents and 15 fatalities on the SR-27 on just two small stretches of the road near Cook Douglas Campus. For this stretch of 3.4 miles, there were about 2 crashes per mile.
The question remains: what makes these roads so deadly. Certain factors were pointed out such as parts of the roads that might be slicker than other stretches in the winter, or how crashes seem to often occur at busy intersections when drivers need to communicate with each other and follow the rules of the road to cross the intersection safely; MoneyGeek's study determined that drunk driving and distracted driving played a factor in many of the accidents, as well as reckless drivers speeding down the roads. Makes sense, too, if you look at who's on most of those roads: truckers, travelers, commuters, college kids.
How negligent and reckless driving leads to NJ car accidents
There are many reasons why car accidents happen. Most causes can be categorized into negligent or reckless behaviors of other drivers, though some happen due to inclement weather or hazards on the road as well.
Negligent driving. Also called careless driving, negligent driving is when the driver engages in driving behavior that is ignorantly without regard for others around them.
Reckless driving. Reckless driving is when the driver actively and knowingly participates in behavior that is dangerous to those around them.
Intent is the main difference between reckless and negligent driving. In negligent driving, the driver may engage in behaviors that are dangerous to those around them, without the driver understanding they are behaving negligently. With reckless driving, the driver is purposely breaking the laws. Someone can be driving negligently under the influence or recklessly driving under the influence depending on whether they realized they were too drunk to drive before getting in the car. When we accidentally speed, that is negligent driving, but when someone speeds down the road thirty miles over the speed limit in a race to get to work, that is reckless driving.
If you are injured in an accident where someone was negligently or recklessly driving, then they are the at-fault party, and they are liable for compensation. You do not deserve to pay for your pain and suffering more than you already must. One day, you may end up in a collision on one of these deadly roads, and that is when you will need a car accident lawyer. At Eichen Crutchlow Zaslow, LLP, we aggressively represent our clients, and we have secured millions for those who have been wrongfully injured in collisions caused by negligent drivers throughout NJ.
If you have been injured in a car accident, our lawyers can help. Call us or use our contact form to schedule an appointment with an experienced and compassionate New Jersey car accident attorney today. We serve clients out of our offices in Edison, Toms River, and Red Bank.
Related Content: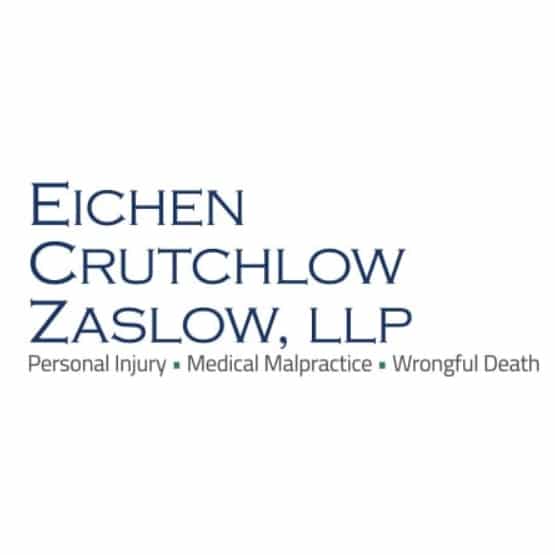 Eichen Crutchlow Zaslow, LLP has purposely remained small in size, because it is important to us that we get to know our clients and their needs. Larger NJ injury firms may churn out case after case, but that's not how we operate. Partners Barry Eichen, William Crutchlow, and Daryl Zaslow have created a firm with the resources to handle complex litigation, and a team that takes your case personally.
Find out more about Eichen Crutchlow Zaslow, LLP