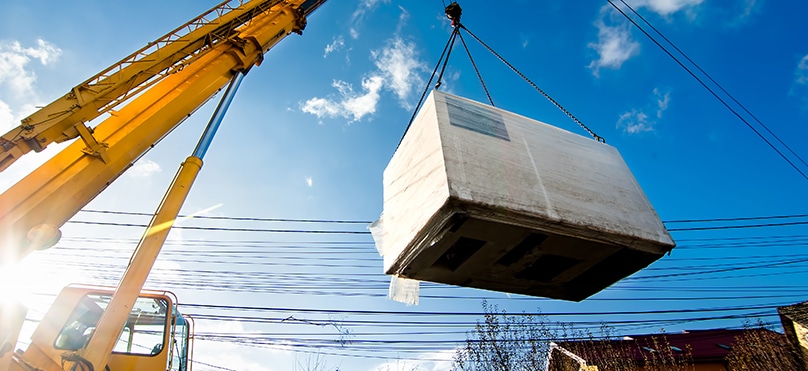 New Jersey Crane Accident Lawyers
Fighting for the rights of clients injured in crane accidents throughout the state
A construction site is one of the most dangerous work environments. American workers are injured and killed every day at construction sites in New Jersey and throughout the country. Cranes are massive machines that lift and move large, heavy objects, and they are responsible for hundreds of workplace fatalities and injuries each year. Construction workers who are injured by cranes may be able to file a third-party lawsuit for compensation.
The experienced New Jersey workplace injury attorneys at Eichen Crutchlow Zaslow LLP, are dedicated to fighting for justice in the form of fair compensation for their clients who have been injured in a crane accident. Whether you are an employee, a site supervisor, a contractor, or a passer-by, we can help.
What are the most common causes of crane accidents on construction sites?
Many people have misconceptions about how crane-related injuries and fatalities occur. While you might think of a crane coming down onto the workers below, most often, electrocution is far more likely to occur while a crane is in operation on a construction site as opposed to crane collapses.
Given that a crane is a massive piece of equipment that can weigh more than a ton, if it is not being operated properly and under safe conditions, there is a huge potential for serious accidents and injuries. The following are just a few examples of factors that could cause a crane accident on a construction site:
Tipping from overload
Contact with electrical power lines
Negligent maintenance
Rigging failure
Unsafe weather conditions
Inappropriate crane selection
Use of the crane outside of manufacturers specifications
Dropping a heavy load
Hitting another structure
Falling objects
Overturned crane
Injuries from crane accidents
The fortunate workers who are not killed in crane accidents can come away with serious injuries including:
Traumatic brain injury
Head and neck injury
Back injury
Crush injuries
Traumatic amputation
Death
Fatal crane accident statistics
The Bureau of Labor Statistics (BOL) reports that there have been 220 fatal crane-related deaths, which is an average 44 deaths per year between 2011 and 2015. Just over half of all the fatal crane injuries involved being struck by an object or piece of equipment, and more than three-fifths of the cases involved the worker being struck by a falling object or equipment. The BOL reports that in 60 of those cases the worker was struck by an object falling from a crane.
Reducing crane-related accidents on NJ worksites
OSHA has identified contact with power lines, overturns, falls, and mechanical issues as the four major causes of accidents involving cranes, including accidents in which there were no fatalities. Other than accidental deaths, there are regularly reports of "routine" accidents, which result in injuries and damage both to workers and property, including equipment. This can mean lost wages for workers, rising insurance rates and OSHA fines for businesses, and overall a lack of safety for construction workers and the public.
However, despite these staggering facts, there are five ways construction sites can lower their risks:
Assessment: Before any work begins, look around the construction site to visually assess whether there is a high risk for a crane-related accident, such as proper soil preparation and adequate room to assemble equipment.
Safety Plan: Create a plan that works for your team. This includes a checklist to ensure the crane can perform the job and that other equipment is both out of the way and able to be maintained in the work area.
Authority: Designate a person in charge of overseeing the crane while it is in use with the authority to stop the crane if an unsafe situation arises.
Preparation: Be sure to prepare and utilize qualified signalpersons, riggers, and operators to ensure all aspects of crane usage are handled by those who are capable of functioning properly in those roles.
Training:  All personnel on the construction jobsite should be properly trained in their own position, along with the work zone at large. Each member of the team needs to have awareness of the safety hazards involved with crane operation and how he or she can play a part in keeping everyone safe.
Workplace safety training
The most important aspect to reducing construction accidents caused by cranes is team safety and training. Rather than relying on everyone to know only their own duties, it serves the team to have each person on the same page by developing a safety plan that everyone is aware of before it is put into place. Having every set of eyes knowing what hazards to look for can help stave off accidental deaths in construction sites and lead to better results for the employees as well as the business at large.
Work with an experienced NJ construction accident attorney
The skilled New Jersey workplace injury attorneys at Eichen Crutchlow Zaslow, LLP, are here to protect your right to recover compensation after a crane accident on a construction site. In the case of a workplace injury that was caused by the negligence of another party, whether it was the manufacturer of a defective crane, or the maintenance vendor who failed to inspect the crane, or any other responsible party, we can help you to file a third-party personal injury lawsuit to hold the negligent party responsible for your injuries.
Our firm has been around for more than 10 years helping the people of New Jersey who have been injured because of someone else's negligence. We have recovered more than $750 million in settlements and jury verdicts for our clients whether they are high-profile individuals, or your neighbors down the street. We treat our clients with respect and responsiveness as we fight diligently to recover the maximum compensation for their injuries and other losses.
You can rely on our award-winning team of lawyers because we are not only accredited by the Better Business Bureau, but our partners are Certified Civil Trial attorneys, which is a designation granted by the New Jersey Supreme Court. Our New Jersey construction accident lawyers are here to protect your rights and fight for fair compensation when you have been injured in a crane accident on a construction site because of someone else's negligence.
NJ construction injury lawyers helping clients injured in crane accidents
Whether you were a member of a team who was operating a crane, or you are the loved one of someone who was fatally injured in a crane accident, we can help. Our team of New Jersey construction accident lawyers at Eichen Crutchlow Zaslow, LLP, have the knowledge and experience to get the compensation you deserve. Call us today at 732-777-0100 or contact us online to arrange a free consultation with a New Jersey third-party liability lawyer in Edison, Toms River, or Red Bank.